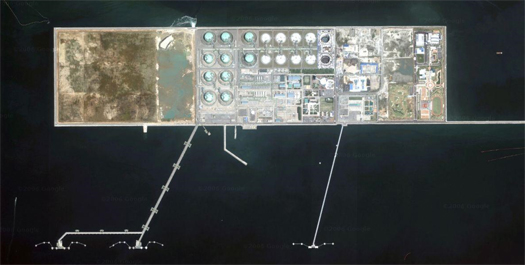 You find this mass anchored in the Yellow Sea (google map) off the Korean coast, attached by a thin line of gravel and asphalt (drawn in the straight line which is the international tell of the engineer) to New Songdo City, the massive planned addition to the port of Incheon.  A perfect rectangle in a bay of irregular mud flats shaped by the eroding tides, dotted with giant holding tanks and extending to the south a pair of long tendrils of pipe and steel.  A fascinating piece of infrastructural detritus.  Your first (and incorrect) assumption is that it is related to the process of land construction for Songdo; perhaps it holds dredge on the left, and treats water in the middle?  But zooming in you see stranger, unexpected artifacts: a golf course, roads planned for pedestrians, an 88-meter tall spire that looms over the tanks, a series of formal gardens.

Though it is unlabeled on the map, a bit of work (your first clues: read the labels of the storage tanks, and cross-reference that with the address you get by querying the location of the tanks in google maps) uncovers that the rectangle is the Incheon LNG Terminal, one of the world's largest liquid natural gas terminals.
This, it turns out, is one of the most fascinating studio projects never assigned:
1. Select a bay off the coast of a major port city.
2. Choose a regular geometric form; this will be the piece of land you will raise, like some prosaic Atlantis, from that bay.  You may set the scale of the form at your discretion.
3. Select a major form of contemporary urban infrastructure, such as oil terminal, nuclear power plant, or wastewater treatment plant.  This will be the primary program for your island.
4. The island will also house workers for that infrastructure.  They will need roads, stores, restaurants, and places to entertain themselves in between trips across the long road back to the mainland.  A golf course is suggested.
5. Build a museum on that island, to explain the history, necessity, and importance of your island's chosen infrastructure.  Give the museum a whimsical entry court, filled with some sort of set of memorials to the un-famous personages who invented the various components and processes integral to your island's chosen infrastructure.  Finally, construct an observation tower from which the visitors to your island can observe, through telescope, the details of your island's chosen infrastructure.
6. Frost your island with gardens, preferably referencing the traditions of other cultures: for instance, if your island is off the coast of Korea you might choose to plant hedges reminiscent of French royal gardens.
7. Do not forget that this island — even the museum and gardens — already exists.