In an article for the recently-launched ARPA Journal, Kate Orff describes a pair of SCAPE pilot projects in New York Harbor, both testing the viability of ecological design concepts for specific harbor-dwelling species along the edge of Brooklyn's industrial waterfront.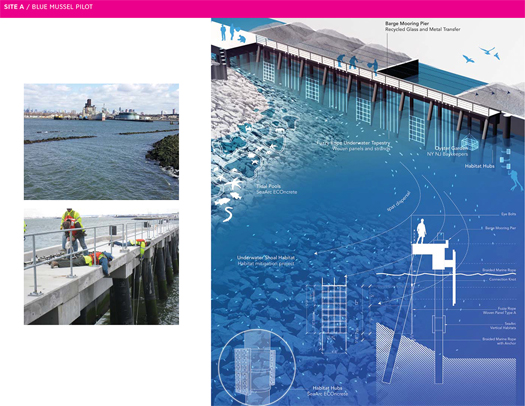 [The blue mussel pilot project; image by SCAPE via ARPA Journal.]
The first, located near the outlet of the Gowanus Canal, adapts "fuzzy rope", a simple material already utilized in aquaculture, to form a set of thirteen panels that retrofit a working pier as blue mussel habitat and, crucially, provide an opportunity to study the effectiveness of various retrofit possibilities in mussel recruitment.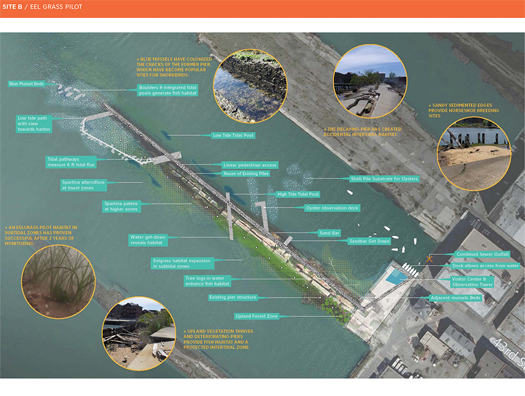 [The Eel Grass pilot project; image by SCAPE via ARPA Journal.]
The second, sited slightly further south along the Brooklyn waterfront, builds on a collapsed concrete pier which has "accidentally created intertidal habitat" and an eal grass pilot plot to propose a "deconstructed salt marsh", which would both incorporate additional pilot plots for a range of typical salt marsh species and serve as a "learning landscape" for the local community.
One of the exciting things about both of these projects is the emphasis on testing, monitoring, and obtaining reliable feedback. In an essay adapted from the introductory chapter of their recent edited collection Projective Ecologies, Nina-Marie Lister and Chris Reed discuss the potential convergence of strains of ecological thought they identify in three divergent domains, natural sciences, the humanities, and design:
…few designers have yet ventured beyond the metaphors and mechanics supplied by these ecological models to design effectively for adaptation to change, or to incorporate learned feedback into the designs, or to work in transdisciplinary modes of practice that open new apertures for the exploration of new systems, synergies and wholly collaborative work. This is the project ahead: leading the sciences, humanities, and design culture toward a more rigorous, robust and relevant engagement across the domains of ecology and design.
For that effort to be successful, more pilot projects will be needed.
[Previously on mammoth: experimental landscape architecture.]