Whether immense re-configurations of watersheds on a geological scale or fine and playful tunings of the interactions between city-dwellers and the infrastructures that deliver their water, those that transmit water or those that sit on and in it, the intersection of hydrology and infrastructure is a continual fascination for mammoth.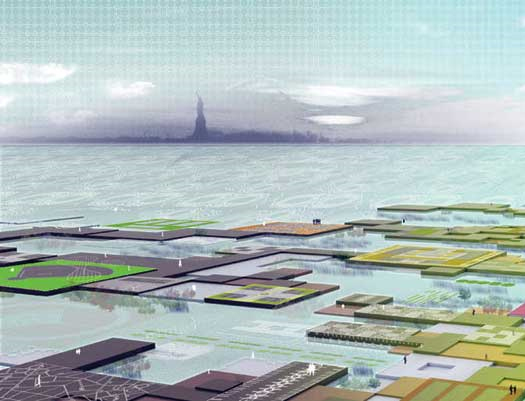 1. Nina-Marie Lister's essay "Water/Front" at Places, discussing Field Operations' Fresh Kills master plan; Mathur + da Cunha's "speculative recalibration" of Mumbai, "Soak"; and "River+City+Life", Stoss Landscape Urbanism's entry to the Donlands redevelopment competition, which also produced the MVVA project previously endorsed.
2. Courtney Likin's "Wild North vs. Rational Port", a thesis project at the University of Toronto and winner of an ASLA Student Award, envisions a new northern port in James Bay, Ontario — along shipping lines cleared of ice by climate change — and integrates both recreational and wildlife park program into the new port. It is, like Park Supermarket, a landscape of both production and recreation. Note that a project like this which overlays production and recreation is diametrically opposite in approach to many of the current projects so praised in contemporary landscape architecture, such as the High Line, which cannibalize the aesthetic experience of productive landscape, but exclude contemporary processes of productivity; while there may certainly be room for both kinds of project, the contrast is instructive.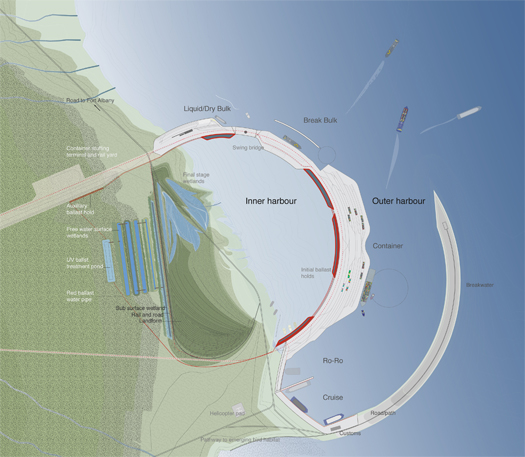 3. Pruned on Waterpleinen, a hybrid stormwater infrastructure and public park system for Rotterdam, proposed and under construction; the hybridization of stormwater infrastructure and public parks being previously praised by mammoth in both Texas and the Netherlands. Waterpleinen is featured in the latest issue of Alphabet City, Water. Read Christie Pearson's "The Public Bath and the City", also in Water.
4. Delta National Park, a multi-format exploration of the content and potentials of the Sacramento-San Joaquin river delta, by John Bass; begin with the intro, continue with the map and the blog (via Mason White, a while ago). The Sacramento-San Joaquin delta is an inverted river delta, which are rather less common than the traditional delta.
5. Speaking of the American West, water is growing scarcer, as most of our readers are probably aware; this is producing difficult conflicts, such as the battle over the effect of activating a Yuma desalination plant on the Cienega de Santa Clara wetland, itself an accidental by-product of previous strategies for controlling the water supply, but now a vital habitat for migrating birds. What do we owe the healthy detritus of our industrial processes?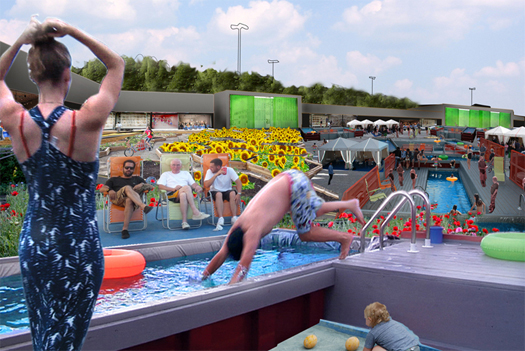 6. A (silly?) plan to build a floating airport off the coast of San Diego, at Infrastructurist.
7. Croton Water Filtration Plant at The Future Beneath Us; 290 million gallons a day beneath the streets of New York City, camoflauged by Ken Smith's stormwater-infiltrating golf course.