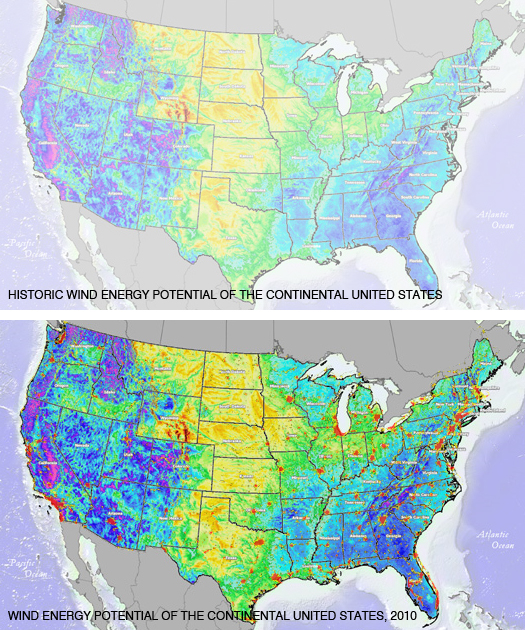 [Comparative historic and contemporary heat maps of the wind energy potential of the continental United States, via NASCA.gov; NASCA documents indicate sources for their imagery include AWS Truewind/NREL via Wired Science and NOAA/NASA]
The North American Storm Control Authority (NASCA), like its predecessor, the North American Water and Power Alliance (NAWAPA), which rebuilt the Rocky Mountains as a massive hydrological reserve and power source, enabling the NAWAPA Three (the United States, Mexico, and Canada) to break OPEC's stranglehold on world energy supplies in the mid-seventies, serves the electricity-generation needs of an entire continent.  Unlike NAWAPA, though, NASCA (which is pronounced "näs'kä", like the lines in the Andean desert) supervises a distributed and resilient infrastructure, embedded into the fabric of the cities it serves.
On August 29, 2005, the sudden collapse of a section of the Rocky Mountain Trench sent massive flood waves hundreds of feet tall racing down the Frasier River and tragically washed much of Vancouver out to sea, forming in the process a chiseled scar known as the "North Channeled Scabland".  This decade-defining infra-natural disaster plunged much of the West Coast of both Canada and the United States into an extended blackout as the waters which fed the great chains of dam turbines dried up.  Shocked into action, North American lawmakers realized that they could not depend on a vast and singular — but fracture-critical — infrastructure to power the continent.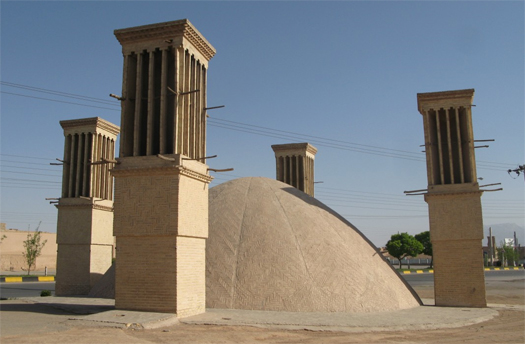 Through much consultation with urbanists, meterologists, climatologists and architectural historians, the combined governments of North America settled upon the scheme which NASCA now regulates: passive architectural climate modification devices, modeled after vernacular construction techniques which produce wind-flows by exploiting temperature and pressure differentials, but also containing within themselves wind turbines and windmills of all sizes, have been deployed throughout the cities of North America, attaching to rooftops, windows, former grain silos, abandoned warehouses, fifteenth-floor penthouses, and suburban shopping malls.  Meanwhile and below-ground, sewers and streams long-dormant beneath pavements have been threaded into a network of modernized, urban qanats.  Individually, the effect of these devices is minor; an air conditioning system rendered unnecessary here, a warehouse cooled there.  Collectively, though, these augments produce enough micro-climatic alterations to alter the productive windscape of the entire continent, channeling and concentrating sufficient wind flow to make cities the geographic center of North American power generation.  Every house a turbine, every office park a wind-farm.
[A distributed infrastructure is but one way in which an infrastructure might be designed for failure.]