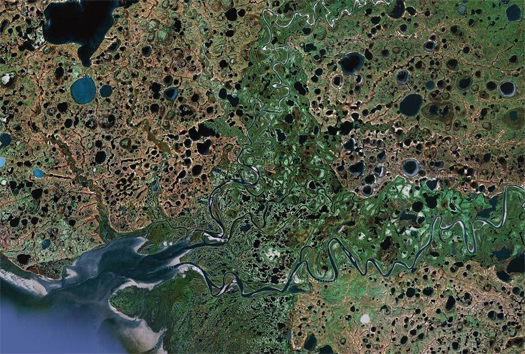 [Russian thermokarst near Nova Zembla]
I've been tremendously entertained lately by Pathological Geomorphology, a blog run by "a loosely defined and unified group of geobloggers" which catalogs "images of extreme landscapes, landforms, and processes".   April is "delta month" (or, as one of their bloggers put it, "April deltas bring May fold and thrust belts"), so far encompassing a paleo-delta in the African Rift Valley, a river in Botswana which vanishes into the desert as it feeds into a basin so dry that it runs out of water without encountering any other waterbody, the "wave-influenced" "single-channel" morphology of the Danube delta, the gorgeous geometry of the Volga delta, a Madagascaran delta whose reddish waters are evidence of upstream deforestation, and many others.  My personal favorite is perhaps the Las Vegas Wash, "an ephemeral drainage that has 'gone all perennial on us' as a persistent conduit of treated wastewater and an intermittent conduit of copious amounts of storm runoff from mall and casino parking lots" — 'Anthropocene' pathological geomorphology, in other words.
You'll find much more (educational!) entertainment in their archives, from Brazilian contrasts between coastal dune formations and sweeping rivers to Algerian sedimentary folds exposed as modernist land art by aeolian processes, all of it clear fodder for landscape experiments to be run by budding architects.
[link to Pathological Geomorphology via @bldgblog]