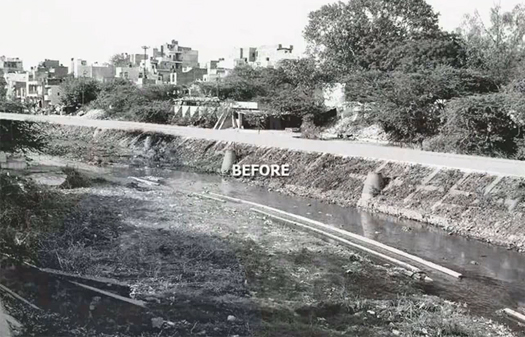 [A "nullah" in Delhi, via the Delhi Nullahs Project]
I ran across the Delhi Nullahs Project — launched by Indian architecture firm Morphogenesis, and, in particular, Manit Rastogi, one of the firm's principals — a few days ago, via @namhenderson.  The "nullahs" were originally constructed as drainage channels by the Tughlak dynasty in the 14th century, and are now open sewers draining that modern megacity into the Yamuna, in such poor condition that the city government is contemplating a plan to fully entomb them beneath concrete slabs, so that the stench and filth of the sewage is hidden as it travels the nullahs towards a massive new wastewater treatment plant on the Yamuna.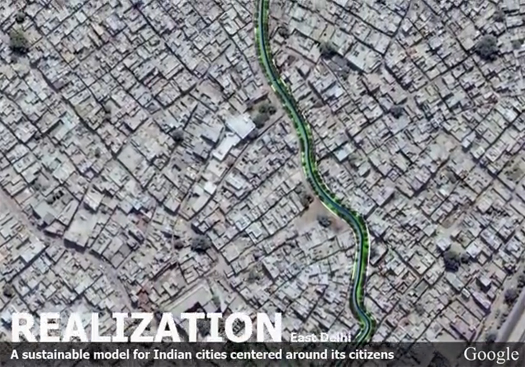 [A revitalized nullah weaves through East Delhi, offering public space, recreational opportunities, and a pedestrian/cycle corridor uncontested by motor traffic, via Delhi Nullahs Project]
The project proposes instead that the nullahs could serve both as a decentralized wastewater treatment system — using bioremediation and source-point treatment facilities to cleanse wastewater before it enters the nullahs, while distributed rainwater collection cisterns feed into the system through the estimated fifteen thousand subsidiary channels, and the increased flow of cleaned water is infiltrated to recharge depleted aquifers — and as an alternative transportation infrastructure, by providing pedestrian and cycling routes along the nullahs to connect neighborhoods and business districts to public transit corridors.  Ideally, this network would then become a space for recreation, making the city at once healthier ecologically and more liveable for its inhabitants, regardless of economic status.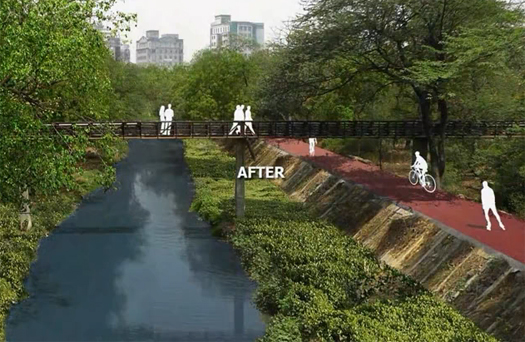 [A nullah carrying clean water, re-vegetated, and used as a pedestrian/cycling corridor, via Delhi Nullahs Project]
While the plan strikes me as eminently reasonable and practical — Morphogenesis is not proposing anything particularly outlandish, and working entirely with established technologies towards goals that seem virtually indisputably positive — the difficulty, of course, which the team and project has encountered is gaining leverage in disinterested political and bureaucratic systems for a plan which deviates, however slightly, from established civil engineering norms (PDF article).