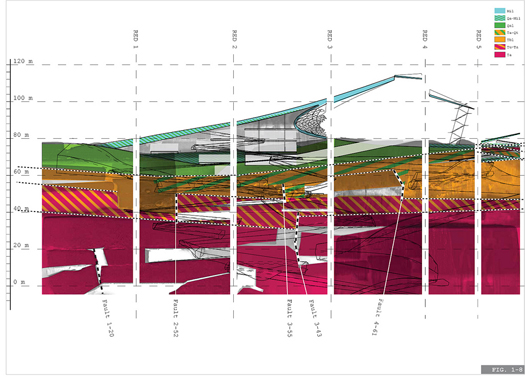 ["The faults induced by military speleogenesis will lead to gradual yet certain failure of the jet noise barrier."]
Nick Sowers (Soundscrapers) has recently posted a series at the Archinect school blog project exploring his recently-completed thesis project from a succession of disciplinary perspectives, which he titles the Archaeologist (who introduces the project), the Forensic Engineer, the Geologist, and the Landscape Preservationist.  Further posts — from a chiroptologist, a sonic archivalist, and an architect — are promised.
Sowers's project (which is quite fascinating) investigates the future history of a jet noise barrier built (and then abandoned) by the American military on the Pacific island of Guam.  The posts so far are impressively diverse, skipping from the conception and definition of an "American military pastoral" (via the landscape history of Greco-Roman fortifications and the battle of Gettysburg); to well-drilling as political protest and the accidental military acceleration of processes of geological decay ("the National Park Service [for whom Sower's fictional persona works] must consider that the military development has induced a state of perpetual fracture"); and a forensic analysis of the structural failure of that jet noise barrier which suggests that permitting entropic decay may be the only way to truly demilitarize a landscape.