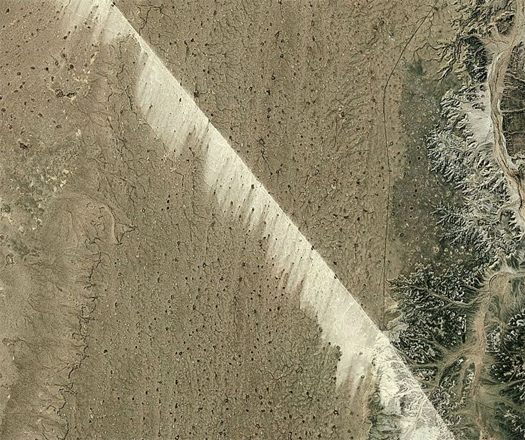 [The Bou Craa conveyor, which is similar to the Negev desert belt previously discussed on mammoth, carries phosphate across the desert in Western Sahara, leaving the wind-swept sediment shadow above, and is the longest conveyor belt in the world; seen at deconcrete, image via bing maps.]
It would befuddle me if there were anyone who reads mammoth and yet is not also a regular reader of InfraNet Lab, and so I rarely link to that excellent blog, but I feel obliged (because of the extreme convergence between the theoretical grounding of the series I'm about to link and mammoth's own infrastructural predilections) to mention the continuing series of posts there which are highlighting the work produced in a recent research seminar at the University of Toronto entitled "Feedback: Architecture's New Territories".  At InfraNet Lab, Mason White, who taught the seminar, explains the key presuppositions underlying the research:
++ The idea of architecture as a self-reflexive, isolated, and willful internal wrangling of formal preoccupations does not have the ability (alone) to address and re-dress the opportunities and challenges in our contemporary design climate.
++ Architecture operating as a singular act on a singular site overlooks its capacity as a large feedback machine extending increasingly beyond itself. Its footprint, always already, is wide and complex.
++ Architecture's potential, today, lies as much in its functioning as a surface, conduit, and container for ephemeral flows of resources, cultures, and energy as it does in its symbolic cultural and formal capacities.
Mason develops from these suppositions a set of "new territories" in which architecture may begin to operate ("flows, velocities, ecologies, economies, and energies"), and it is those territories which are explored in the posts by the students from the seminar.  So far, the posts in the series have covered the convergence of the international flower trade market in a highly mechanized architecture in Holland ("Bloemenveiling Aalsmeer"), the "maquiladora" export production landscapes of northern Mexico ("Border Economies"), and the submarine structure of the internet ("Relink: The Physical Network of Data"), and we expect that there are more to follow.