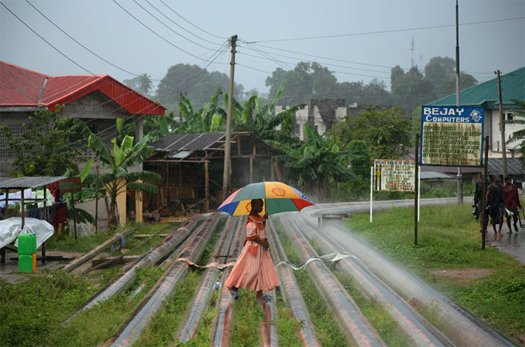 [Crude City today: a woman crosses oil pipelines in the Niger delta; photograph by Ed Kashi for National Geographic.]
Nam Henderson ponders the relationship between urban density and oil production in Los Angeles, and wonders if future landscapes might develop from the evolution of Leo Marx's classic formulation, the machine in the garden, to the "machine as the garden".  A bit of discussion related to that evolution appears in the comments of Stephen's post "Oildorado".
Free Association Design looks at the ephemeral infrastructures that sprout, like technological fungi blooms, when the useful lives of infrastructures of hydrocarbon extraction and distribution end, in "Remediating Crude City".
DPR-Barcelona constructs a "speculative similarity between perpetual motion machines and oil pumps", noting that, ironically, the seemingly perpetual motion of vanishing oil pumps mirrors the vanishing hope that oil could drive the perpetual motion of economies.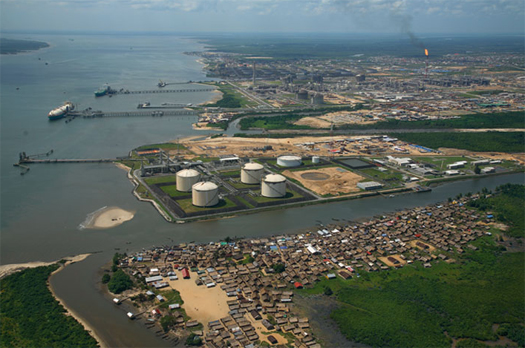 ["Uprooted to make room for a liquefied natural gas plant, people in the village of Finima on Bonny Island complain that the facility has damaged fishing grounds, with few jobs offered in return"; photograph by Ed Kashi for National Geographic.]
While Ruchala's chapter concentrates on the disappearance of the infrastructure of oil extraction from Los Angeles, Peter Nunns makes note of an extremely important contradiction in that disappearance:
"…the other side of the story, perhaps the more important side, is that Los Angeles' oil infrastructure has hardly contracted. Rather, it's expanded to encompass most of the globe…  Most of the oil produced today comes from the third world, and what we used to call the second world (Russia, mainly). One of the many characteristics of places like Nigeria and Kazakhstan is their invisibility to American eyes…  The expansion of the Los Angeles oil infrastructure far beyond the region has occluded it more thoroughly than the derrick camouflage measures described by Ruchala."
Because of this distancing, the infrastructures which sustain our industries only occasionally rise to the surface of our collective consciousness, usually prompted by local infrastructural disasters (such as the current Gulf oil spill) and, even then, as Peter notes, the degree of outrage Americans summon for those disasters is entirely disproportionate to their global frequency.  Writing about reactions to the Gulf oil spill at Clastic Detritus, Brian Romans notes that Lisa Margionelli has simply summed up the problem with our collective outrage: "effectively, we've been importing oil and exporting spills to villages and waterways all over the world"1.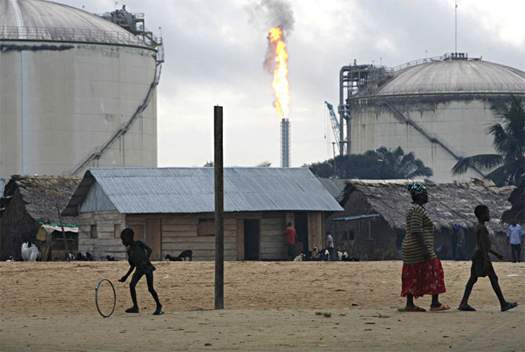 ["Villagers in Finima live within sight of giant fuel tanks and a polluting gas flare, part of the sprawling energy infrastructure on Bonny Island. Ships loaded with millions of dollars' worth of crude oil and natural gas depart regularly from an island where most people subsist on a few dollars a day." Photograph by Ed Kashi for National Geographic.]
Which, now that I think about it, is probably exactly the right way to understand what has happened to Crude City: we've exported it.  Implying that perhaps designing for Crude City now has less to do with problems generated by abandoned infrastructures than it does coping with how the current form and infrastructures of our cities affect our need to import hydrocarbons.
We're taking a scheduled break from reading The Infrastructural City next week, but we'll be back in two weeks, on May 24th, with the Center for Land Use Interpretation's chapter on gravel.