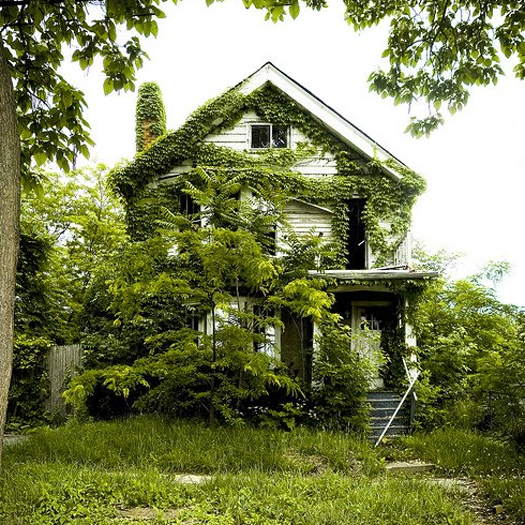 [A "feral house" in Detroit, via Sweet Juniper, who has many more pictures; houses and porches, of course, cannot be mowed, and so one often finds early successional plants such as Ailanthus taking advantage of that fact while their brethren a few feet away are easily suppressed by even the most sporadic of maintenance regimes; you might also enjoy Sweet Juniper's flickr set "Life on the Urban Prairie"]
Running with Techentin's speculation about future cybernetic forests, DPR-Barcelona catalog a series of "Performative Organic Machines": telephone wire parasites, "eco-boulevards", free-roaming mechanical colonies composed of plants, bacteria, and robot.
Relatedly but not identical, spy upon your suburban neighbors in the Terrestial Shrub Rover.
At Free Association Design, Brett Milligan contributes a pair of posts, the first a slideshow of "spontaneous urban vegetation" in Portland and the second looking at a particular example of a constructed urban forest, San Francisco's Mount Sutro.
We'll be back later this week with a post on chapter eight, "Cell Structure", which looks at the impact of the proliferation of privately-funded, owned, and operated cellular infrastructures.