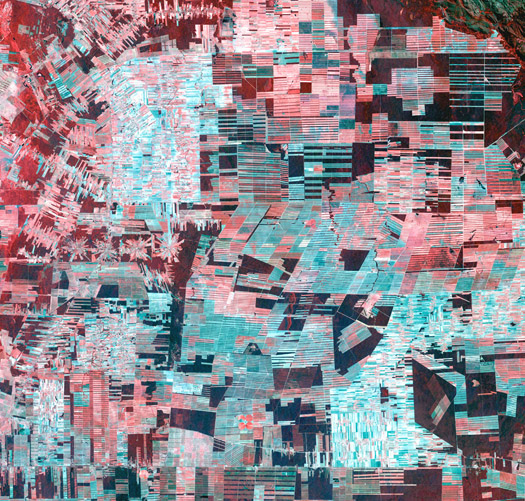 "Once a vast carpet of healthy vegetation and virgin forest, the Amazon rain forest is changing rapidly. This image of Bolivia shows dramatic deforestation in the Amazon Basin. Loggers have cut long paths into the forest, while ranchers have cleared large blocks for their herds. Fanning out from these clear-cut areas are settlements built in radial arrangements of fields and farms. Healthy vegetation appears bright red in this image." NASA, via but does it float
A pair of posts related to Roger Sherman's "Count(ing) on Change":
DPR-Barcelona relates the logic governing urban development described by Sherman to informal streetfront shops and transient markets in Los Angeles and Mexico. One of my favorite tidbits was this description of a failed attempt by Los Angeles to formalize some such arrangements:
[There is evidence] of some kind of hidden agreements in between legal commerces and illegal vendors whom arrange a kind of rent to use the portion of sidewalk in front of the legal store. Researchers indicate that a program to incorporate street vendors into the formal economy has already been tried in LA, and failed. Special Sidewalk Vending District Ordinance of 1994 authorized the creation of 8 vending zones in the city, but only two pilot programs were launched—one in MacArthur Park and the other in San Pedro: both were out of business by 2005.
Free Association Design has me convinced that Monopoly and The Wire ought to be taught in architecture schools, and reminds us of Gordon Matta-Clark's Fake Estates project.
As both the playful abstraction of Monopoly and Counting On Change demonstrate, the aggregated collection of these fuzzy, interpersonal negotiations are integral processes of the city and are potentially underutilized by designers. Returning to the HBO series The Wire (another inseparable meshwork of reality and imagination) the show can be construed as a visual, dramatized thesis in support of Sherman's ideas.

Part of what made The Wire so fascinating was the overt revelation of how an entire city is built, and evolves upon the collective of such informal (and non-law abiding) dealings, rather than a single or autonomous masterplan.
You'll have a hard time convincing me that these demonstrate less important lessons than the latest Francis Ching book, at least.