A group of graduate architecture students from Parsons' Design Workshop is attempting to (partially) fund an unsolicited project called Splash House using Kickstarter:
The Highbridge Pool and Recreation Center is an invaluable place for kids to play and learn. Yet for several months every summer the Washington Heights community is denied this critical resource when the facility is converted into locker rooms for the Highbridge Park Swimming Pool.

We've designed Splash House, a new pool-deck pavilion for the Highbridge Park Pool in the Washington Heights neighborhood of New York City. It is a space where swimmers can change and safely store belongings, and we're ready to construct it ourselves this summer.

We need your help!  All donations will go towards procuring building materials for Splash House; everything from screws to steel beams.
Although it's probably not the first such attempt, it's the first one I'm aware of.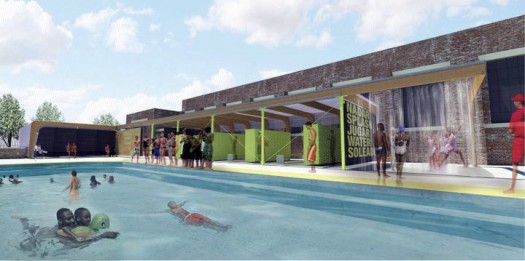 [Splash House rendering by the students of the Design Workshop.]
Endeavors like this are exciting to see, and have a clear relationship to the current discourse in architecture concerning business models and future practices. I can't get too carried away with the prospect of Kickstarter as single-source capital for a built project, because I'm yet to be convinced of its ability to fund projects beyond a couple tens of thousands of dollars (if that).  (And the fact that the Design Workshop students aren't using it as single-source capital only reinforces this point.) Kickstarter wants to be a force multiplier for architectural projects, not a stand-in for a traditional (monied) client. When used in a way which recalls the literal significance of its name, I think tremendous possibilities for architecture and urbanism are present. A couple off-the-cuff examples of what I'm thinking:
– Propose an architectural product instead of an architectural object. This could be a study to create field manuals, or project like New York City's recent effort to create a simplified version of their zoning code in a book designed with non-technical folks in mind. Efforts that aim for larger effects throughout a region by leveraging civic engagement which might otherwise be left latent, efforts which utilize a small amount of startup financial capital in order to mobilize a much larger amount of human capital.
– In a similar fashion to what Bryan Boyer proposes here [1], it's not hard to see a situation in which a prospective builder or local entrepreneur could utilize the Kickstarter infrastructure and some grassroots community marketing to aggregate committed interest from future clients. This financial demonstration of interest could be used as a down payment on a construction loan, or as a proof-of-concept minimum viable product in tandem with a business plan to acquire a business loan.
This is certainly no knock on the Parsons Design Workshop team (who I am sure would welcome your support, and have a nice history of design-build projects in the public realm) — but I'm looking forward to a future where designers ask "if no client, then how?" instead of "if no client, then who?"
[Link via Federico Negro of CASE Inc.]