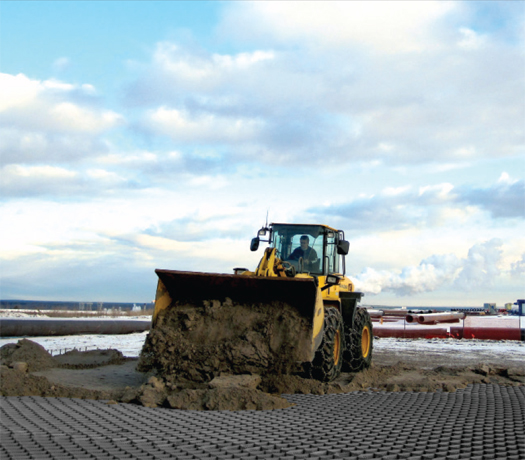 [Cellular confinement systems were originally developed by the Army Corps of Engineers to facilitate the quick construction of temporary roads for heavy military vehicles; photograph from a Neoloy brochure.]
In a remote polar region, there is a small country that is rarely visited by outsiders.  On the advice of a rogue Army Corps of Engineers liason — who was attached to the American embassy there in the mid-seventies and forgotten when the embassy was closed a decade later, but who, through his close relationship with the country's ruling party, has become the country's Minister of Internal Improvements — all of the nation's roads are constructed using built-to-fail cellular confinement systems.  What this means, of course, is that the nation's roads are completely ephemeral, constantly appearing, disappearing, and re-appearing in response to the whims of commerce, the dictates of the Ministry, or even the happy mistakes of mis-directed or confused systems crews.  You drive in to lead a medical clinic, and two years later, when you go to leave, the road you came in on has disappeared.  Or zags northwest instead of northeast.
Maps of the nation's roads are thus out of date as quickly as they are drawn, though it should be noted that clever cartographers have taken to color-coding the lines for roads based on their expected date of expiration.