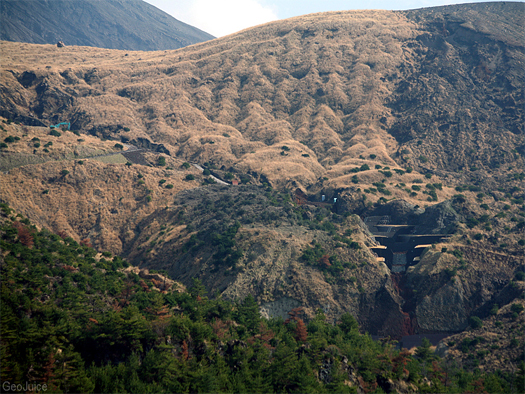 ["Reclamation and slope stabilization on a volcanic ash hillside" in Japan; photograph by flickr user GeoJuice.]
If I weren't going to be in California March 23rd and 24th, I'm pretty sure I'd be in Boston at the GSD's "Landscape Infrastructure" symposium, which promises a fascinating range of discussion on "the future of infrastructure and urbanization beyond the dogma of civil engineering and transportation planning", organized and curated (obviously) by Pierre Bélanger:
"Urban life is sustained by technological infrastructure. Highways, harbours, airports, power lines, landfills and mines largely figure as the dominant effigies of contemporary urbanization. The sheer size of these elements renders their understanding as a single system practically impossible, yet their operations depend precisely on their continuity to support the flow of capital and cultural mobility. Often found underground, or beyond the periphery of cities, the presence of urban infrastructure remains largely invisible until the precise moment at which it fails or breaks down. Floods, blackouts and shortages serve as a few reminders of the limited capacity and fragility of this large operating structure that unilaterally depends on constant control and micro-management for its sustenance.

As the invisible background of contemporary society, the smooth functioning of infrastructure has literally naturalized the processes of urbanization whereas less than a century ago, a basic level of collective, essential services barely existed. Rarely, do we stop to interrogate the functioning, let alone the effects – geospatially, metabolically, or semiotically – of this Taylorist, technological superstructure. Yet recent events – from the sudden collapse of highway bridges, the rise and fall of water levels, the growing hazards of coastal storms and coastal eutrophication, the accumulating effects of carbon emissions, the surge in foreign oil prices and spike in food prices, the drop in credit markets, to the increase in population mobility and dispersal – are instigating a critical review of the basic foundation upon which urban economies depend on.

Emerging from current economic exigencies and environmental imperatives, this symposium engages these challenges by re-examining the precepts of infrastructure – the basic system of essential services that support a city, a region, a nation, a continent– as well as the patterns of urbanization from which they originated. Responding to the overexertion of civil engineering and the inertia of urban planning vis-à-vis the pace and complexity of urbanization at the turn of the 21st century, the symposium challenges the technocratic role of engineers, transportation planners and policy makers who have profoundly shaped the urban environment that we move through and live in today. Drawing from the growing agency of contemporary urbanists – ecologists, geographers, historians, designers, conservationists and social groups – who are rethinking the predominance of centralized infrastructures, guest speakers employ a telescopic vantage to bring forth alternative models, methods and measures across a range of scales, that seek to decouple the Fordist economies of scale from the paradigm of economic growth."
I don't have much more to say about this than yes, but I would like to excitedly note that Peter del Tredici will be giving a talk entitled "Plants as Megastructure". Plants as Megastructure.