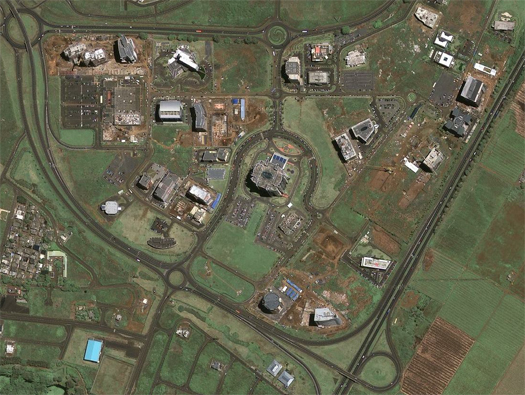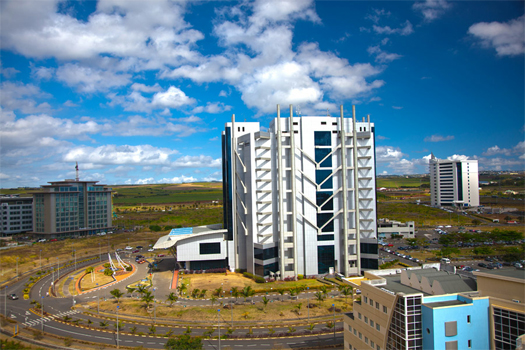 [A zone: Ebene Cybercity in Mauritius. As a bonus, Ebene is also an excellent example of the capacity of the Tubes to direct urban futures, as one of its prime selling points is that it sits at a landing point for the "the SAT3/WASC/SAFE sub-marine cable which links Southern Europe, Western and Southern Africa and South-East Asia".]
Places has just published a fascinating piece from Keller Easterling, "Zone: The Spatial Software of Extrastatecraft", which (appropriately) exports and reformats material from Easterling's forthcoming Extrastatecraft. (Here at mammoth headquarters, Extrastatecraft is more or less guaranteed to be the most hotly anticipated book of whatever year it ends up coming out in, unless Keith Haddock finally gets around to updating Colossal Earthmovers.)
"Zone" is a brief history of the various kinds of "free zones" — "including free trade zones, foreign trade zones, industrial free zones, free zones, maquiladoras, export free zones, duty free export processing zones, special economic zones, tax free zones, tax free trade zones, investment promotion zones, free economic zones, free export zones, free export processing zones, privileged export zones and industrial export processing zones" — that have proliferated globally in both the 20th and 21st centuries, from the United States' first free trade zone on Staten Island, to mid-twentieth century "export processing zones" like Manaus in Brazil and India's Kandla Free Trade Zone, to Malaysia's "Multimedia Super Corridor" or Ebene Cybercity on Mauritius. Expanding upon her earlier work's contention that "diverse spatial types demonstrate the ways in which architecture has become repeatable and infrastructural" (read: Organization Space's "generic protocols for building offices, airports, houses, and highways"), Easterling argues that, with the zone, urbanism has also "become infrastructural", repeatable, and is even metastasizing wildly:
"Today urban space has become a mobile, monetized technology, and some of the most radical changes to the globalizing world are being written, not in the language of law and diplomacy, but rather in the spatial information of infrastructure, architecture and urbanism. Massive global systems — meta-infrastructures administered by public and private cohorts, and driven by profound irrationalities — are generating de facto, undeclared forms of polity faster than any even quasi-official forms of governance can legislate them — a wilder mongrel than any storied Leviathan for which there is studied political response.

One of these meta-infrastructures is the phenomenon of the free zone — a highly contagious and globalized urban form and a vivid vessel of what I have termed extrastatecraft. A portmanteau meaning both outside of and in addition to statecraft, extrastatecraft acknowledges that multiple forces — state, non-state, military, market, non-market — have now attained the considerable power and administrative authority necessary to undertake the building of infrastructure."
This seems correct — and the "highly contagious" spatial formats produced by these extra-state forces are perhaps all the more important as objects of architectural study when the public sector in the United States refuses to spend on infrastructure even as "the interest rates on 10-year treasury bonds just hit a 220-year low", as the relative agency of extrastatecraft necessarily expands with every contraction of the state.
Read the full article at Places.