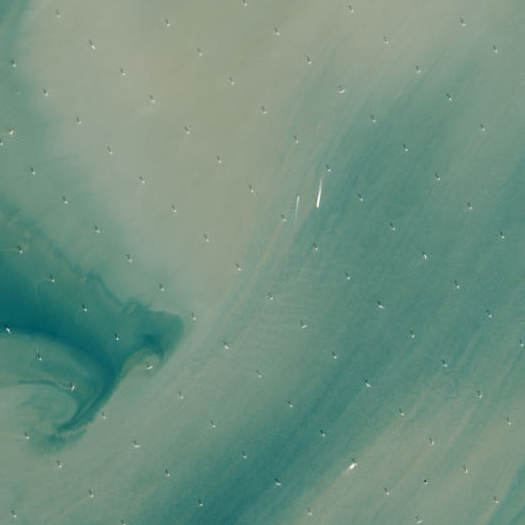 [The even grid of the world's largest offshore wind farm, the London Array, surrounded by swirling sediment in the Thames Estuary. Seen at NASA Earth Observatory:
To date, the London Array includes 175 wind turbines aligned to the prevailing southwest wind and spread out across 100 square kilometers (40 square miles). Each turbine stands 650 to 1,200 meters apart (2,100 to 3,900 feet) and 147 meters (482 feet) tall. Each is connected by cables buried in the seafloor, and power is transmitted to two substations offshore and to an onshore station at Cleve Hill.

With construction operations working out of Ramsgate, the Array is eventually supposed to grow to 245 square kilometers (95 square miles). The wind farm sits on two natural sandbanks, with water as deep as 25 meters (80 feet). The site was chosen because of its proximity to onshore electric power infrastructure and because it stays out of the main shipping lanes through the area.
Via Tim Maly.]