1. Good Magazine's Water Issue discusses clean water technologies for the developing world, the current and historical contamination of American tap water, fully recycled tap water, how the control of water is becoming central to the conflict between India and Pakistan and interviews Robert Glennon, author of the new book Unquenchable, which explores America's water crisis:
"We are spoiled. The water managers have done too good a job. We wake up in the morning, turn on our taps, and out comes a plentiful supply of clean water for less money than we pay for cable television. But in some sections of the country, people are noticing. Last year, Atlanta's principal water supplier, Lake Lanier, came within 90 days of drying up. That was a real wake-up call [but] Atlanta failed miserably. They took very modest steps that did not include banning new ground­‑water wells. People were free to drill wells and didn't even need approval of the state unless they were pumping over 100,000 gallons per day. It was open season on the groundwater supply."
2. Pruned looks at the Artifical Desert Lake of Turkmenistan (intimately linked to the drying of the Aral Sea) and additional projects from the exhibition Out of Water (previously covered by Infranetlab as Strategies against Desertification).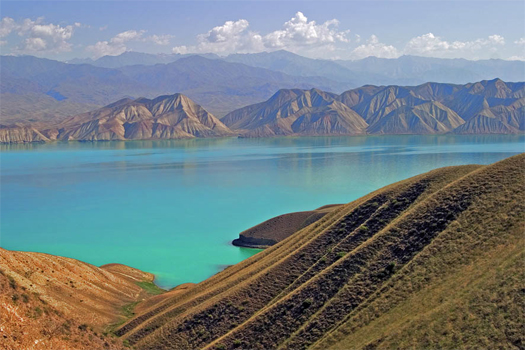 3. Infranetlab on the stepwells of India, ancient infrastructural monuments dug deep into the earth for moisture, and on a student project that reconfigures part of the Rivière-des-prairies hydro-electric dam.
4. Previous discussion of water on mammoth: tracing the ambiguity of seamelt and landrise, on Alberto Kalach and the vanished lakes of Mexico City, wondering whether the Netherlands provides an example of the coexistence of rigid and flexible strategies for flood management, and on bayous, floods, and indeterminacy in Texas.
5. Project M's Buy a Meter allows you to donate to help purchase water meters for families in Hale County, Alabama, who will otherwise lack access to clean water. Water for one home is $425.
6. From the Guardian article from 2006 on the daylighted river and park that replaced the Cheonggycheon Highway in Seoul (mentioned and linked to by Stephen below):
"Work started in July 2003. It had taken 20 years to build the roads and to obliterate the river, but it took contractors just two years to pull them down and restore it. It cost $380m (£201m) and required 620,000 tonnes of concrete and asphalt to be removed and recycled. Twenty-two new bridges were built, and the water in the river was restored, albeit mainly from groundwater. There was fierce opposition and protests to begin with from nearby traders, who feared that cars would no longer be able to get there, and thousands of hawkers and other people who used the space below the motorway were forced to leave. They were eventually relocated…

The city had beefed up its bus service and given people options to avoid the motorway, and the effect on the environment was remarkable. Hwang says: "We found that surface temperatures in summer along the restored river were an average 3.6 degrees Centigrade lower than places 400 metres away. The river is now a natural air conditioner, cooling the capital during its long hot summers. Average wind speeds in June this year were 50% higher than the same period last year. It was extraordinary. Also, many birds came back, plus fish, insects and plants. The variety of wildlife has vastly increased since we tore up the road."