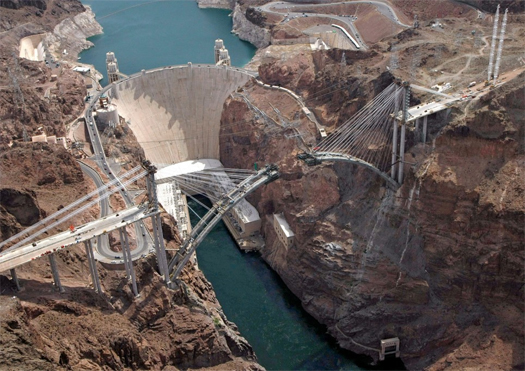 [Aerial image of the Hoover Dam Bypass under construction; I'd love to give credit for the image to the photographer, but it came to me through a long email chain, lacking any attribution, and I haven't been able to locate the source]
Economics journalist Louis Uchitelle complains about a "superproject void" in the Times; Infrastructurist responds, arguing that California's high speed rail, the nation-wide revival of streetcar networks, and the "smart grid" could all be considered "superprojects". As commentators point out, he's also ignoring relatively traditional but underground projects such as Chicago's Deep Tunnel, the ARC Tunnel, and the third New York water tunnel, and important new-but-distributed infrastructures (the "smart grid", the replacement of radar by GPS-based flight control).  And Infrastructurist is also right to make the Varnelis-esque point that "we're a heavily populated wealthy democracy with a dysfunctional political culture that favors paralysis over action," though it's a point that runs counter (as Infrastructurist states) to the overall theme of the post.
That said, Infrastructurist doesn't really respond to Uchitelle's points about the relationship between scale and economic effect, as Uchitelle is arguing not just that that contemporary infrastructure projects are smaller, but that there's something fundamentally different about the economic effect of a very large project, like the ARC Tunnel, which, while physically impressive, operates in a relatively small geographic territory, and a superproject, which connects formerly disconnected territories (as the interstate highway system did), aggregating markets. The obvious contemporary corollary to the interstate is high speed rail, but Uchitelle also rightly notes that the Obama administration project which is closest to a superproject, defined not just by impressive physical impact, but also by economic effect and ability to facilitate new connections, is the proposed integrated health care computer network.