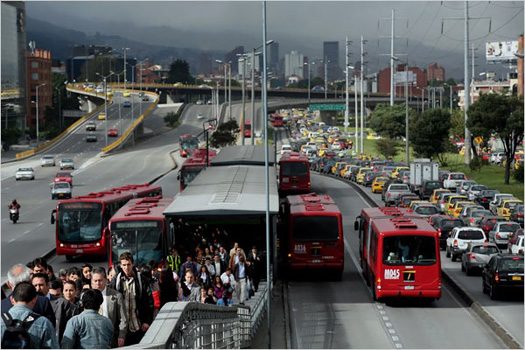 Fast Company author Cliff Kuang writes about New York City's adoption of rapid-bus transit solutions developed in Brazil and Columbia:
Urban planners, rejoice! Today, the New York City Department of Transit announced a radical new plan for improving the city's bus lines: A fully dedicated express-lane for buses, running crosstown on 34th Street. It's expected to improve bus speeds by 35%, on a route where buses are stationary a whopping 40% of the time. And it marks another huge, bold idea from Janette Sadik-Khan, the DOT commissioner who's overseen a slew of projects, ranging from the new sidewalk saffolding to a pedestrianized Times Square.
The system has several novel improvements over standard bus lines which work in conjunction with the dedicated express lane, as described in Fast Company's reporting.
[via @thewhereblog]