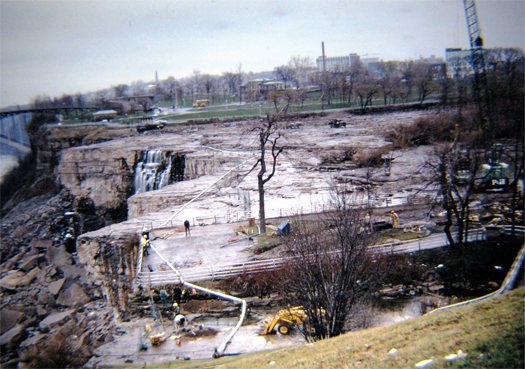 [American Falls de-watered, via Flickr user rbglasson]
For six months in the summer and fall of 1969, Niagara's American Falls were "de-watered", as the Army Corps of Engineers conducted a geological survey of the falls' rock face, concerned that it was becoming destabilized by erosion.  During the interim study period, the dried riverbed and shale was drip-irrigated, like some mineral garden in a tender establishment period, by long pipes stretched across the gap, to maintain a sufficient and stabilizing level of moisture.  For a portion of that period, while workers cleaned the former river-bottom of unwanted mosses and drilled test-cores in search of instabilities, a temporary walkway was installed a mere twenty feet from the edge of the dry falls, and tourists were able to explore this otherwise inaccessible and hostile landscape.
A riverbed, in other words, became an ephemeral public park, though as by-product of a potentially colossal geo-re-engineering project1.  The authorities even installed temporary interpretative signage explaining the Fall's geology to inquisitive visitors.  Which, of course, raises the possibility that other ephemeral parks might be constructed, perhaps not as by-product, but solely to provide access to new terrains.  Without consideration of the practicalities: lower the Hudson for a month, and hold a rock-climbing festival along new cliffs, the competitors scrambling up Hartland Schist in the mist of spray-emitters stabilizing the rocky banks.  Let loose the dammed power-lakes of the Tennessee Valley Authority, and hold Bonnaroo on the muddy bottom of Harrison Bay, temporarily un-flooded.
Or, less ephemerally, when the Chicago River is re-reversed, will the city partition and drain it at the canal locks, and sell off the resultant land-rights?

Further fascinating history of Niagara Falls: in the nineteenth century, the "tailraces" — essentially, industrially-scaled discharge pipes which created artificial water falls in the gorge — of the Mill District were nearly as famous a tourist attraction as the natural falls. From the photographs (also: in winter), it is easy to see why; also, at Places, Barbara Penner reviews Ginger Strand's "Inventing Niagara"; finally, Strand's own Niagara Toxic Tour.