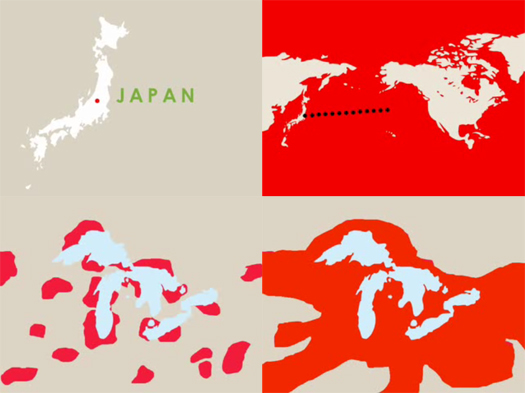 [Mapping the transference of botanical threats from Japan to the Midwest, from a video presentation on Japanese Knotweed (Polygonum cuspidatum) in the Great Lakes region]
From a recent article in the Guardian:
Biological warfare is to be declared on an alien invader, Japanese knotweed, that swamps gardens and rivers, with the release of an insect to eat the virulent weed.

The decision by the Department for Environment, Food and Rural Affairs is the first allowing one non-native species, a flying insect resembling a miniature moth, to control the seemingly unstoppable spread of an alien plant…

The wildlife minister, Huw Irranca-Davies, said the fast-growing Japanese knotweed was estimated to cost £150m a year to control, and was able to grow through buildings and roads.

[Knotweed] has also been blamed for flooding, by causing erosion to river banks and clogging up streams with dead plants.
The decision is not without controversy, though, as some environmentalists worry that introducing an exotic predator — the chosen Aphalara itadori, a "plant jumping lice" — is potentially as disastrous as the original introduction of knotweed.  Given the history of predator introduction (in which the introduced predator has occasionally proven more harmful than the prey it was introduced to control), that worry is not wholly absurd, despite assurances from the British government that the introduced insects will be studied in tightly controlled environments before wide release.  But it's probably worth noting that humanity has already spent the past couple centuries engaging in an unprecedented experiment in cross-species conflict at a global scale…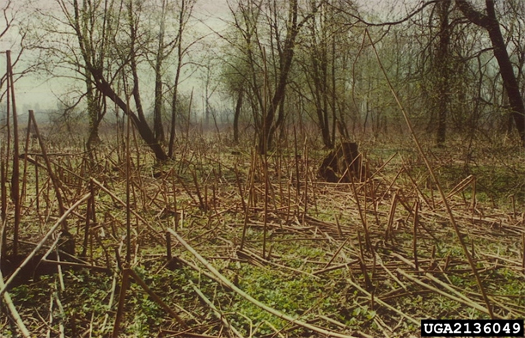 [The aftermath of a knotweed clearning operation; Invasive plant images via Invasive.org]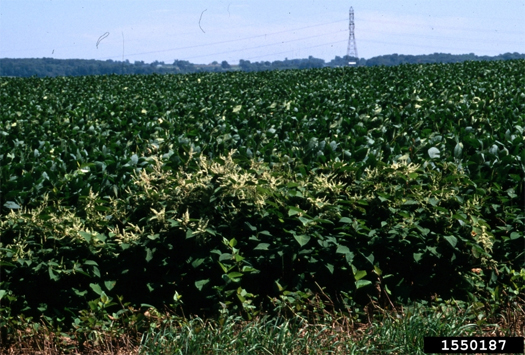 [A Japanese knotweed infestation in Ohio]
I'm reminded of a conversation I had with a horticulturist recently.  She noted that, due to the extreme pest pressures North American native species now face, some horticulturists now think that the appropriately far-sighted practice is to only plant invasive species1.  This, of course, flies in the face of the prevailing dogmas of landscape and botanical disciplines, where the categories "native" and "invasive" are treated not as functional ecological descriptors, but as moral markers: to cultivate invasive plants is considered ecological violence, while planting and preserving natives is an indication of moral righteousness.
It is, of course, true that there are a number of good reasons to prefer native plants to exotics, and a corresponding number of good reasons to combat the spread of invasive plants, neither of which I have any intention of minimizing.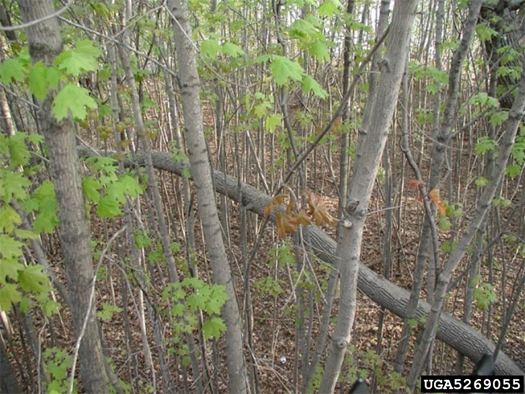 [A future forest of Norway Maple?]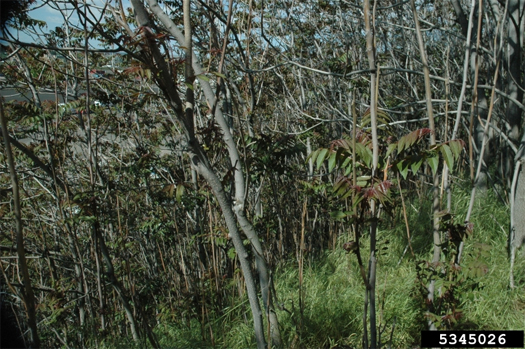 [A future grove of Ailanthus altissima?]
But I'm still haunted (and not at all pleased, despite my fascination) by the thought that the decline of native species might be inevitable.  Native species may be adapted to climate and local ecology, but perhaps only invasives are adapted to free trade, and free trade's attendant equalization of global pest regimes?2 Are the Native Plant Societies destined to be horticultural equivalents of the Institute of Classical Architecture, propagating an aesthetic preference which has certain pleasant associations for many people, but which is no longer derived from any functional process?
Moreover: are these the future forests of the Eastern seaboard?  Not Oak-hickory-pine nor Maple-beech-birch, but Mulberry-Ailanthus-Norway Maple?  If so, these future forests would have been constructed by the aggregate effect of human economies spread across several centuries, so that we might have even been said to have unintentionally cultivated them with shipments of insect-bearing fruits, the massive growth of the globalized horticultural trade in the nineteenth century, ballast-loads of exotic aquatics, and ornamental gardens which lurked on the edges of our cities like botanical time-bombs (or, perhaps, the unknowing seeds of the preservation of some forest — if not quite our forest — as strange and unnatural as it might be).  Free trade as a form of monumental gardening, with the entire biosphere its terra fluxus.  Profit-seeking corporations and capitalist nation-states as unwitting gardeners, container ships their trowels.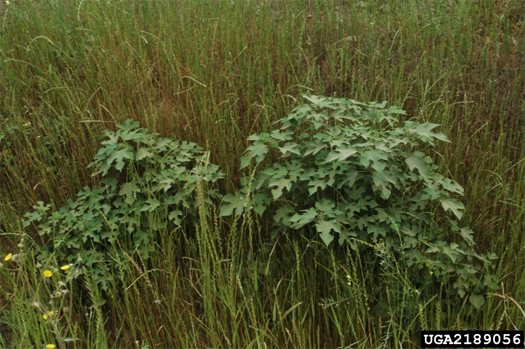 [A small future stand of Paper mulberry?]
And this is to say nothing of more radical but entirely possible futures, such as that bioengineering our crops might, through cross-pollination, produce fields of genetically-enhanced "superweeds"; yet would forests of incredibly adaptable invasive hardwoods and savannahs of superweeds not be preferable to genetically-pure but frail, choking, and dying landscape-museums of natives?  At some point, presumably, we would admit the evolutionary superiority of kudzu, a plant which is adapted not just to soils, rainfall, and temperatures, but to us and the disturbances we produce.