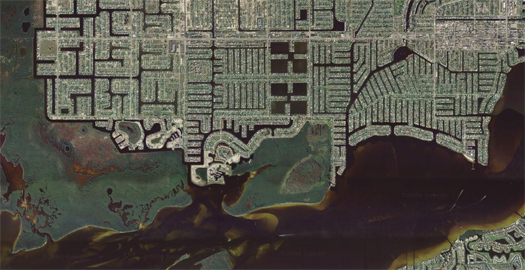 [A portion of Cape Coral, Florida, which has been under citrus quarantine for much of the past decade, as the USDA attempts to prevent the spread of an invasive strain of Asian citrus canker to the remainder of the United States; though the quarantine zone initially included only relatively small areas such as the Cape Coral zone surrounding known infection sites, the entire state of Florida is now under indefinite citrus quarantine.  While the fruits themselves, which have been determined to not be an infectious vector after proper disinfection, may move freely since late 2009, "it is illegal to move live citrus plants, plant parts, budwood, or cuttings from Florida." ]
Landscapes of Quarantine, an "exhibition exploring the spaces of quarantine, from Level 4 biocontainment labs to underground nuclear waste repositories" opens at the Storefront for Art and Architecture tomorrow evening (with a reception at Storefront which is free, open to the public, and features, thanks to Brooklyn Brewery's sponsorship, free beer), and will run through April 17th.  The exhibition is curated by Geoff Manaugh (BLDGBLOG) and Nicola Twilley (Edible Geography), and developed from the work of an independent, multi-disciplinary studio they ran last fall.  Mammoth dropped by the final session of that studio and, based upon what we saw then, we have no doubt that the work in the exhibition will be thought-provoking and of the highest quality.
A pair of mammoth posts written briefly after that visit (on quarantine theater and quarantine economies), as well as two posts more generally related to matters of quarantine (this place is best shunned and left uninhabited, on designing the landscape of nuclear waste repositories, and pueraria lobata, on invasive species, the cultural construction of nature, and hacking species range); you can read about Smudge Studio's contribution, which explores deep geologic repositories for extremely long-term quarantine, at Friends of the Pleistocene; David Garcia Studio contributes MAP 002: QUARANTINE, which includes proposals for a zoo of infectious species, an instantly quarantinable farm, and more; Pruned curates a collection of quarantine-themed posts; more details at BLDGBLOG and at Edible Geography.