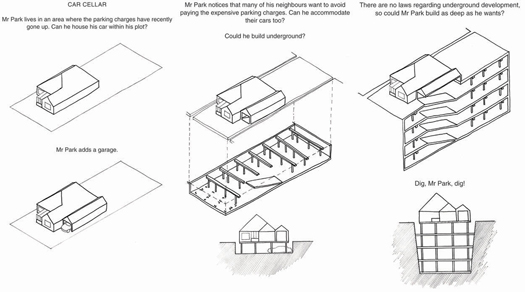 [A drawing from SUB-PLAN; click to enlarge]
I've mentioned before that we try not to link to things that we suspect you, our readers, are already reading; this, of course, means that we rarely link to some of our favorite blogs.  However: BLDGBLOG's latest missive — which is on David Knight and Finn Williams' explorations of the architectural implications of obscure changes to British zoning laws — demands a link, particularly given how interested we have been in the idea of exploring, hacking, and otherwise opportunistically mis-interpreting zoning laws.  Geoff writes:
Last year [Knight and Williams] published a book called SUB-PLAN: A Guide to Permitted Development, exploring the world of building extensions, temporary structures, outdoor spaces, and other minor acts of home construction that fly beneath the radar of official town planning.

"How far does planning control what we build? And what can we build without planning?" the authors ask. "SUB-PLAN explores the legal possibilities of building outside the limits of legislation."
You can purchase a copy of SUB-PLAN here.