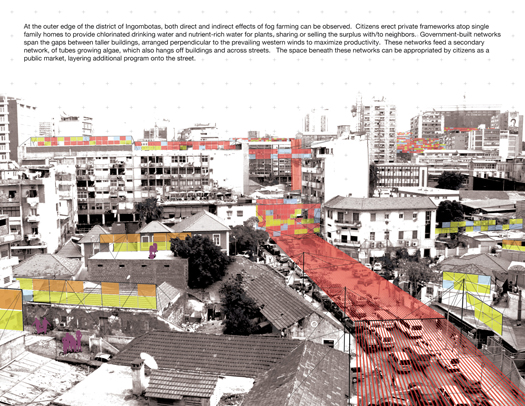 [An image from mammoth's contribution to Bracket 1: On Farming, "Hydrating Luanda".]
Places excerpts a piece from the soon-to-be-published first volume of Bracket.  In the excerpt, Mason White sketches towards a description of an alternate trajectory within twentieth century architecture, which he terms the "productive surface":
Productive surfaces articulate a new public realm, and with that a new public — a public characterized not by whether it is urban, suburban, or rural, but by whether it participates in the cultivation of its necessities, of its energy and food. The shift in emphasis from the "function" of Modernism to the "production" of contemporary practice can be charted through relationship of architecture to the larger environment. The productive surface yields, making it not only responsive to its environment but indeed operational because of it. This is not a sustainability mantra so much as it is a biological one — the goal is an architecture of synthetic surfaces servicing variously scaled constructed environments, including the roof, the site, and the wider climatological and ecological territory.
Mason links a series of seemingly widely divergent projects — from Garnier's Une Cité Industrielle to Buckminster Fuller's World Game to the recent River Rouge Complex — through their relationship to this trajectory, suggesting that the "productive surface" is fertile territory for the design of "new economies, programs, typologies and public realms".
More than a few of these, of course, are suggested in Bracket 1: On Farming, which you can pre-order now; while waiting for your copy to arrive, you might enter a submission for the second volume, which is themed Soft:
Bracket 2 invites the submission of critical articles and unpublished design projects that investigate physical and virtual soft systems, as they pertain to infrastructure, ecologies, landscapes, environments, and networks. In an era of declared crises—economic, ecological and climatic amongst others– the notion of soft systems has gained increasing traction as a counterpoint to permanent, static and hard systems…

While designers such as Cedric Price, Yona Friedman, Archigram, and Buckminster Fuller embraced the early soft project, envisioning alternate models of urbanization, mobility, and infrastructural networks, this project has remained dormant for the past decades, only to reemerge with increased urgency today. Acknowledging fluid and indeterminate situations with complex feedback loops that allow for reaction and adaption, the possibility of soft systems has re-entered the domain of design, necessitating a repositioned role of the designer.  The present era, characterized by crisis, provides a new platform to revisit the soft project in the 21st century.

Bracket 2 seeks to critically position and define soft systems, in order to expand the scope and potential for new spatial networks, and new formats of architecture, urbanization and nature. From soft politics, soft power and soft spaces to fluid territories, software and soft programming, Bracket 2 questions the use and role of responsive, indeterminate, flexible, and immaterial systems in design. Bracket 2 invites designers, architects, theorists, ecologists, scientists, and landscape architects to position and leverage the role of soft systems and recuperate the development of the soft project.
Entries are due December 10th.
If you missed it: mammoth talks with Mason White and Lola Sheppard about architecture, infrastructure, method, and much more.