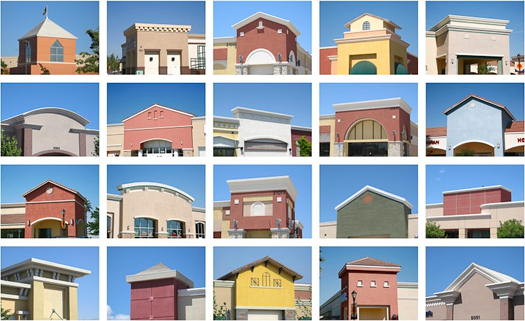 [An image from Mark Luthringer's "Ridgemont Typologies"]
In an excerpt on Slate from his latest book (Makeshift Metropolis), Witold Rybczynski asks the question: what kind of cities do we want?
Judging from the direction that American urbanism has taken during the second half of the 20th century, one answer is unequivocal—Americans want to live in cities that are spread out. Decentralization and dispersal, the results of a demand for private property, privacy, and detached family homes, have been facilitated by a succession of transportation and communication technologies: first, the railroad and the streetcar; later, the automobile and the airplane; lastly, the telephone, television, and the Internet. In addition, regional shopping malls, FedEx, UPS, the Home Shopping Network, and Amazon.com have helped people to spread out. Even environmental technologies—small sewage treatment facilities and micro power plants—have allowed people to live in more dispersed communities than in the past.
Framed in this manner, Rybczynski's question and this part of his answer (which is more complex than can be deduced from this brief excerpt) together indicate something important that has been missing from the latest series of shots fired by various New Urbanists at landscape urbanism (those shots and related posts have been handily collected by Jason King over at Landscape+Urbanism here, here, and here).  One of the primary roots of the disagreement between the two schools of thought is that New Urbanists tend to see dysfunction in the contemporary American city (roughly, sprawling suburbanization) as primarily political in origin.  This is why (true) narratives about the role of mid-century auto manufacturers in sabotaging street car lines or the illegality of building traditional urban forms under contemporary zoning codes are so central to the New Urbanist complaint.  (This is also, coincidentally, why New Urbanism has little to offer towards ameliorating one of the most massive global urban challenges, the question of how to deal with the sprawling and impoverished informal developments that one in six humans already live in — political actors may have a great deal of responsibility for those conditions, but it is extremely hard to see how political reorganization (of the sort that New Urbanists champion in the United States) is likely to successfully respond.)
The problem with this primarily political conception is that the contemporary city has been produced not just by political forces, but also by the social desires and technological changes that Rybczynski so succinctly describes.  Attempting to impose a New Urbanism through political means — however wisely planned — on the complex matrix of technological, economic, and social forces that produce cities is asking for that urbanism to be fractured by pressure from below.
I make this point in more detail here and here. Conveniently, the comments of my interlocutor in both cases — Sandy Sorlien, the principal of SmartCode Local and a New Urbanist of some note — indicate that New Urbanists tend to be as focused on political causes as I have argued.