This is week six of our reading of The Infrastructural City; if you're not familiar with the series, you can start here and catch up here. It takes me a bit to get to discussing the chapter, but seeing as this post is already over a week late (sorry!) I hope you'll indulge a few extra paragraphs.
In "Invisible City," Kazys Varnelis compares three buildings in downtown Los Angeles: John Portman's Bonaventure hotel, Gehry's Disney Concert Hall, and One Wilshire Blvd. By demonstrating a shift in architectural purpose from representative reflection of global financial and communicative networks to a vital performative node in those same networks (yet one which resists interpretive reading and urban spectacle), these buildings provide an opportunity to reflect on the relationship between architecture and the infrastructural city.  It's also an opportunity to draw distinctions between cultural performance, programmatic performance, and technological performance; to reflect on the search for novelty in architecture (especially novel form-making); and to ask why these are often conflated.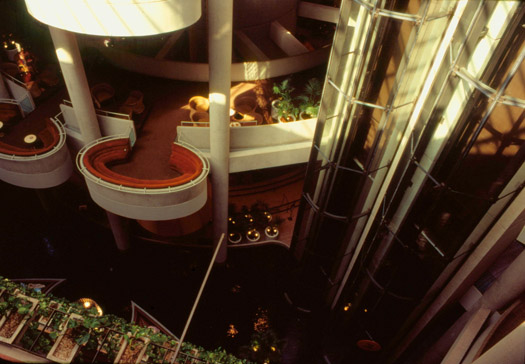 interior of the Bonaventure Hotel, source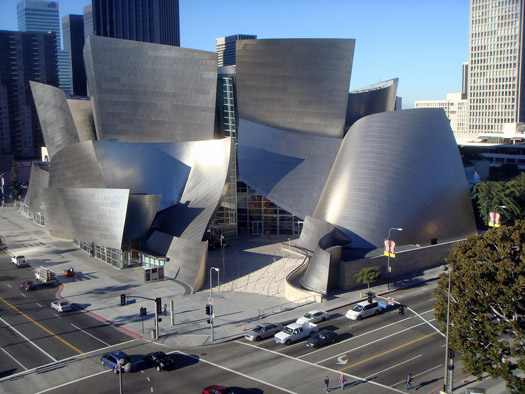 the Walt Disney Concert Hall, source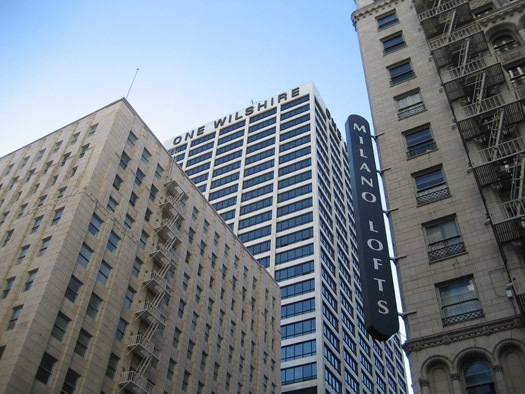 exterior of One Wilshire, home to over 300 global telecommunications companies, source
Last January I attended the reviews of Princeton's Fall 2009 thesis class.  Each class is assigned a collective theme which is meant to frame the students' research – 'Air' was that year's chosen topic. The student work (1) was suitably impressive, but what I found more fascinating was the discussion among the panel of critics after all the projects had been surveyed.
They seemed awfully dismayed at the lack of formal novelty. Paraphrasing their commentary: An over-saturation of blogs and architecture media is evident. The theme of air is as close to 'starting from zero' as you can get, and many projects embraced it. They tried to create new affects and environments using architectonic form. They tried to work in novel types of program and programming strategies into their buildings which took advantage of this. Yet, the projects remained direct formal progeny of various recent 'it' buildings or styles: we saw Steven Holl, the Yokohama Port Terminal, Preston Scott Cohen, and Asymptote presented. Is it possible for architects to start from zero, from a purely technological or scientific point of view?
The implication is that, because the projects developed bear formal similarities to things we've seen before, they were directly influenced by them, and that this influence is precluding the development of a novel formal language – some unexpected result which may emerge from strict adherence to empirical data. I think this is misguided, for a couple of reasons:
we've seen that rendering before
At a certain point, it becomes practically impossible to escape formal precedent, especially with the explosion of experimentation over the past 20 years. Having projects in conventional formal models is inevitable at this point, because even the most outrageous form-making has become conventional and institutionalized. In this environment, what matters is the utilization of form, the logic guiding its deployment, and the phenomenal, affective, and cultural performances it attempts to engender. This is where these thesis projects were attempting to head – if they failed, they failed nobly.
form, style and performance
What the critics were longing for was a new architectural style, identified through some as-yet-undrawn set of forms. The search is on (as it has ever been) for a new language – something which can be read as generationally distinct from what came before. The mistake was in assuming that Air, with all its promise of new phenomenological and technological performances, would result in such a thing.
Thinking about 'starting from zero' and taking a scientific approach has to disassociate itself from an expectation that experimental, empirical architecture will produce novel formal patterns and aesthetics. It is not, on it's own, enough to generate a new language, just enough to manipulate existing languages with precision and sophistication to produce desired performance. This is obvious when we look at examples of empirical architecture, such as the labyrinth project highlighted by BLDGBLOG, Berger's landscape experiments for his Pontine Marsh project, or One Wilshire Blvd, subject of this week's chapter. In the labyrinth and marsh projects, we see a causitive relationship between the formal composition of the structures and the researched performances which are meant to be achieved by application of the scientific method to the building process. Yet, if one were to look at them without any knowledge of this application, it would be easy to mistake them as merely evolutionary descendants of modernist or contemporary parametric design aesthetics. The science did not engender a clear stylistic break.
One Wilshire takes this even a step further.
What is striking about One Wilshire is how little the formal characteristics of the architecture matter to the performance it is meant to enable (that of a critical global telecommunications switching point). It looks like your bog standard office building, with a bunch of servers shoved in.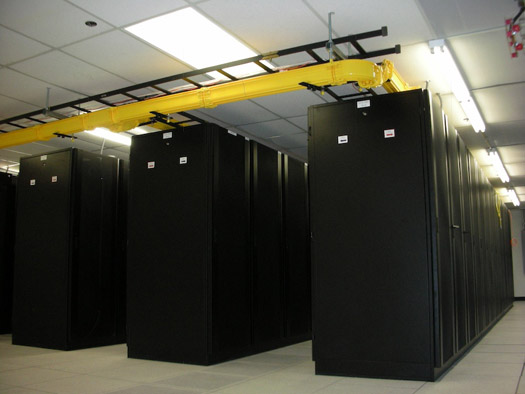 a glimpse inside One Wilshire, source
The shimmering, ghostly computer-generated shapes of recent architecture only detract us from the invisible city, the less visible, but more real, work of programming and organizational processes. One Wilshire's form doesn't matter: what matters is how it's been re-programmed.
As noted in the introduction to this post, One Wilshire is one of three buildings compared in the chapter, which begins with a discussion of the Bonaventure Hotel.
Portman's Bonaventure lacks aspirations to a better world, reflecting the city, as a given, back upon itself […] the hotel's complexity is an analogue for our inability to understand our position in the multinational, decentered network of finance and communication that comprises late capitalism
As Varnelis notes, one would expect the successor to the Bonaventure in LA to be the Disney Concert Hall – "a product of the further penatration of culture by capital, embodying the contemporary city's role as a site of culture through visual display" – but Gehry's building is actually an architectural dead-end. It is cultural performance without purpose beyond its own iconic presence, and doesn't try to leverage this performance into any greater agency or action on its urban context. Varnelis: "But in its relentless need to appear, the Concert Hall is a red herring.  The visible is no longer a prime determinent of the urban. Visible form is merely an interruption of other forces, a graphic user interface for a more powerful command line below." The future of architecture isn't finding a worthy formal successor to modernism, post-modernism, or parametricism, it's learning to manipulate the command line.
What was allegorical in the Bonaventure has become real at One Wilshire. In our own era, the task of cognative mapping lies at the point in which media and cities, network and economy, substructure and superstructure become inextricable. The real operating system, not the graphic user interface are our concern. Only by engaging the code below can we remain relevant to future cities.
This is central to why, at mammoth, we rarely if ever engage in architectural criticism in a traditional, formal sense.  Rather, we find ourselves obsessed with discovering the limits of and strategies for architectural agency. We like command-line architecture much more than stylistic innovation for innovation's sake. I wouldn't say there is no interest in the formal qualities of architecture and infrastructure – just that we miss the most vital potentials of infrastructures and architectures if we limit investigation to the formal, and especially when we are concerned with aesthetic novelty at the expense of performance.
However: style and taste are not anti-performance, or even incidental to performance – they are a different sort of performance, one which is cultural, theatrical. There exists enormous value and excitement in architects who can compose these sort of performances. The London-based firm F.A.T. (Fashion Architecture Taste) come to mind as master manipulators of precedent and cultural expectations, able to create lyrical structures and environments which engage context and occupant. Their architecture attains programmatic performance while playfully remixing style and taste, and is just as valid and important a set of tactics for operating in culturally saturated urban environments as Berger's hydrological experiments are for the Pontine Marshes.