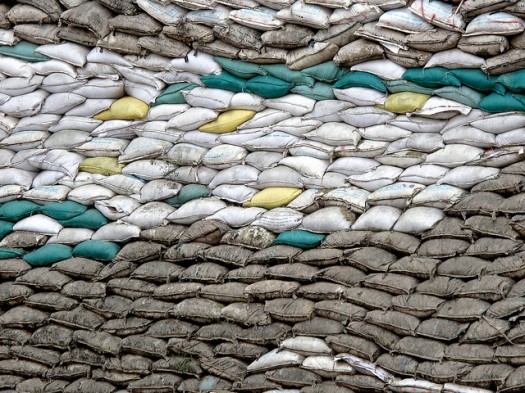 We recently wrote a brief piece, "Appeal", for the excellent architecture journal Quaderns in response to their most recent issue, "Parainfrastructures". We used this response as an opportunity to consider why we are so drawn to infrastructural landscapes like Blue Plains — not just as sites of logistical and technological operations, but aesthetically as well:
Let us suppose for a moment that the "Parainfrastructures" which Quaderns #262 concerns itself with are a class of things, that object-parodying helium balloons hovering around Heathrow Airport to block its expansion, inflatable "instant cities" powered by air compressors, "geodesic domes, parachutes, spray-foam dwellings, zomes, space frames", "indoor built and ephemeral complexes" colonizing the open floor plans of abandoned airports, and architectural systems of "air control" can be read as a category of architectural objects called "parainfrastructures". Even though we will be supposing in error—because "Parainfrastructures" never seeks to delineate its subject matter by so crude a means as a definition—this seems a productive error, because it permits us to see a pervasive weirdness.

This weirdness, in the context of architectural critique, is that parainfrastructures paradoxically gain their strength and appeal from having been designed with a certain disregard for aesthetics. Parainfrastructures are constructed out of the banal materials of twentieth-century industrial innovation like synthetic fabrics, geotextiles, and industrial plastics, not the refined and expensive finishes of high-corporate architecture. Structurally, they depend on ties, straps, bendable rods, and air compressors—temporary, flexible, contingent engineering.
Read the whole piece at Quaderns and, while you're there, think about ordering the full issue; it's well worth your time, as it features contributions from John May, Enrique Ramirez, Roger Sauquet, Javier García-Germán, and more.
[Image via photographer Steve Jackson on Flickr]