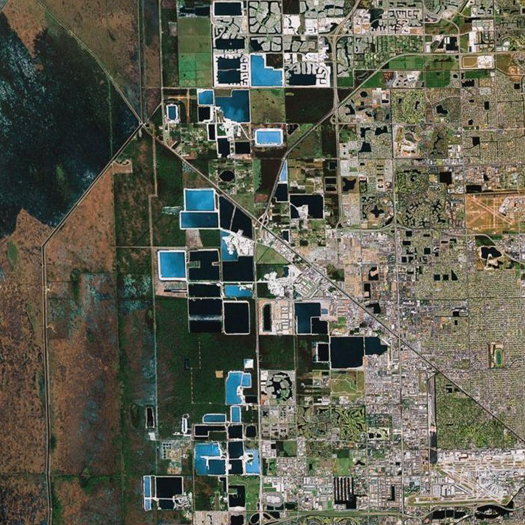 [Miami's Lake Belt, the zone in which the city of Miami becomes a mirror image of itself — reflected in blue polygons induced by the mining of the limestone rock literally used to construct the city — before it disintegrates into the Everglades.]
I've gotten part way through listening to the portions of last weekend's Landscape Infrastructures symposium that have been posted online, and was particularly struck by comments that Charles Waldheim made in the closing roundtable:
"I was struck by Neil Brenner moderating the second panel [as he] brought it to a close by saying something to the effect of "the idea, the model, that somehow our action around urbanism should concentrate in the cities, is an outdated notion".

That struck me as correct, and, at the same moment, if that's true, it has enormous implications for those of us in [the GSD] and in these disciplines. If in fact we should focus on urbanism and urbanization and its infrastructure, not necessarily focused on the city and an opposition between the city and the externality of biological process, it strikes me that there's an equally profound paradigm shift potentially for us in landscape architecture. I think, you know, for the better part of the last half-century, in our field, we've been operating under a paradigm in which nature exists outside of human agency, the kind of classical if not modernist defintion of ecology, in which urbanization was the problem. And having said that, what I've heard over the course of the last twenty-four hours, is that we need to fundamentally re-think that paradigm. [In terms of] the practices that we engage in, the models and habits of thought, the tools, the representational tools that we have available, to be able to think through our commitments, both to social and cultural production, but equally to environment and ecology, absent the idea of our extraction from those natural systems."
This seems a profoundly important point for landscape architecture, in particular: that urban and natural systems are inextricable, not opposed. Indeed, that they have always been, though the scale of that intertwinment is rapidly accelerating. (If that inextricability seems obvious, it is also important to recognize that an understanding in which natural and urban systems are not just in conflict but fundamentally exclusive has been, as Waldheim notes, the primary paradigm within environmental land planning for at least a half-century.)
One consequence of this is that density and urbanism should not be conflated as if they were always one and the same thing. Density, rather than being the primary characteristic that determines whether a place counts as urban or not (a definition which produces endless pointless arguments about exactly how dense a place must be to be urban), is merely one of the important effects of processes of urbanization. It is a peculiarly important effect in any number of ways — economically, ecologically, phenomenologically —  but it should not be mistaken for an essential characteristic of urban terrain.
This is supported (as we've noted before, after Christopher Grey) by the definition that Ildefons Cerdà provided for urbanism when he coined the term: "the science of human settlements at various scales and times, including countryside networks". It's not terribly far from "countryside networks" to "landscape infrastructures", is it?
Another really interesting thing, related to both Waldheim's point and the de-conflation of density and urbanism, is what this indicates about where opportunity lies for landscape architecture as a discipline. While much progress has been made by firms like MVVA and Field Operations in finding roles (leading roles, even) for landscape architects on projects within the envelope of density, it seems to me that the more stretched the scale of an urban network becomes, the more it becomes uniquely suited to design by landscape architects. Put concretely, there are vastly more square miles of land in, say, the artificial watershed of Los Angeles than there is spare open land in Boston's city limits; and what other design discipline is used to working with so much land? An expanded definition of urbanism quite literally has more room for landscape architecture.