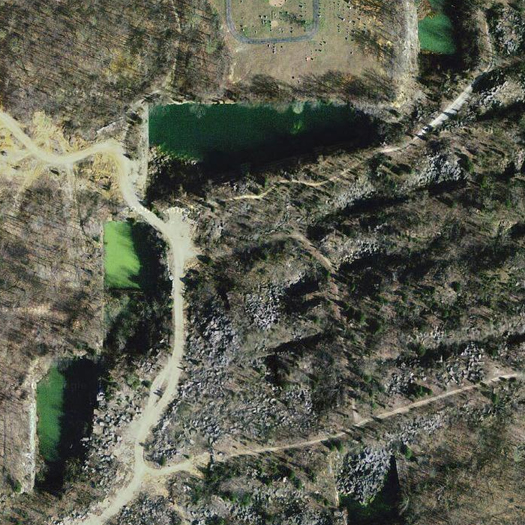 [The negative image of the Empire State Building, carved out of oolithic Indiana limestone, and aged into an enormous swimming pool; via Atlas Obscura, which writes:
[Indiana limestone] was in such demand that a massive industry cropped up around it, and hundreds of thousands of tons of mammoth stone slabs were carved out of the ground and shipped around the country. A shocking number of iconic American structures are made out of Indiana limestone, including the Empire State Building, the Washington National Cathedral, the Pentagon, and 35 of the 50 current state capitol buildings.

Unfortunately, in the second half of the 20th century, stone masonry fell out of favor as preferences shifted to glass-and-metal skyscrapers that were cheaper to build and maintain. This dissolution of the limestone industry left many southern Indiana towns impoverished, as they are to this day. Their plight was fictionalized in the 1979 Dennis Quaid film "Breaking Away." Now all that remains of many of the limestone quarries are massive, eery rectangles etched out of the earth and speckling the otherwise pastoral countryside.

The most famous of these quarries is the Empire Quarry, which provided the 18,630 tons of stone needed to construct the Empire State Building. The quarry is so long and so deep, one can imagine the entire Empire State Building lying within it, refilling the 207,000 cubic feet of empty space now left vacant.
Read the full entry at Atlas Obscura.]