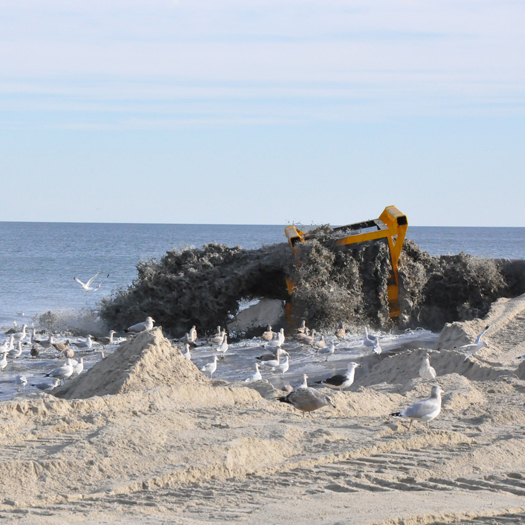 [Beach nourishment in Monmouth, New Jersey. Photo: USACE.]
A few months ago, I posted the live interview that the Dredge Research Collaborative (Stephen, Brett Milligan, Tim Maly, and myself) did with Geoff Manaugh and Nicola Twilley at Studio-X NYC. Both at that event and in the short post I did, we promised that we'd be back to New York in the fall for a longer event — a festival of dredge.
We're pleased to announce that DredgeFest will be Friday, September 28th, and Saturday, September 29th.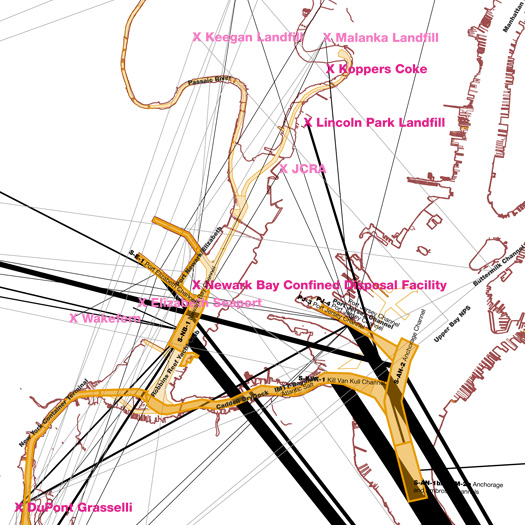 [A tangled web of exported sediments: mapping the transfer of silt, sand, clay, and rock from dredge sites in New York and New Jersey Harbor, from 2009 to early 2012. Draft image: Dredge Research Collaborative.]
Dredging — the mechanized transport of underwater sediments — is one of the most primal of the infrastructural support systems underlying the modern metropolis: huge barges, hoses, and shovels locked in constant combat with the entropic pull of gravity. Through dredging, we act as geologic agents — accelerating and decelerating the movement of silts, sands, and clays.
DredgeFest will both explore dredging as an industrial activity central to the functioning of an estuarine metropolis like New York City, as well as circle outward from dredge to a variety of linked landscapes and processes, from oyster-farming to anthropogenically-accelerated erosion to retrofitting New York's coastal edges for climate change adaptation.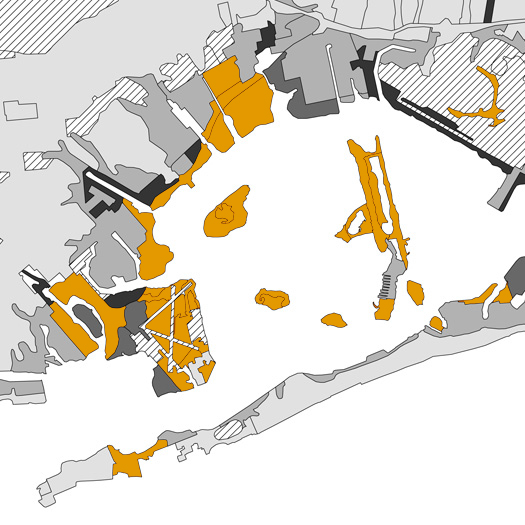 [Anthrosols in New York: dredge and other fill around Jamaica Bay. Draft map by the Dredge Research Collaborative using data from the NYC Reconnaissance Soil Survey, which is an amazing dataset — part of the world's first urban soil survey to explicitly focus on the classification of anthrosols.]
On the 28th, we'll spend the afternoon at Studio-X (180 Varick Street), for talks and panels discussions that will bring together corporate practitioners, government agencies, designers, scientists, theorists, and industry experts. We'll be talking about dredge and the Anthropocene — how human sediment handling practices are helping to shape a new geologic era; hearing about the current evolution of the handling of sedimentary resources from 20th-century linear industrial models towards 21st-century methods that create cycles, positive feedback loops, and resilience in the face of contemporary environmental challenges; looking at dredge as a regenerative resource; and examining the role of public participation in the landscapes of dredge. We're quite excited about the line-up we've developed for that afternoon, which includes designers Kate Orff and Catherine Seavitt; representatives of public agencies like the USACE, EPA, and NPS; Eric Sanderson, author of Mannahatta; corporations involved in sedimentary New York; geologist Roger Hooke; and more.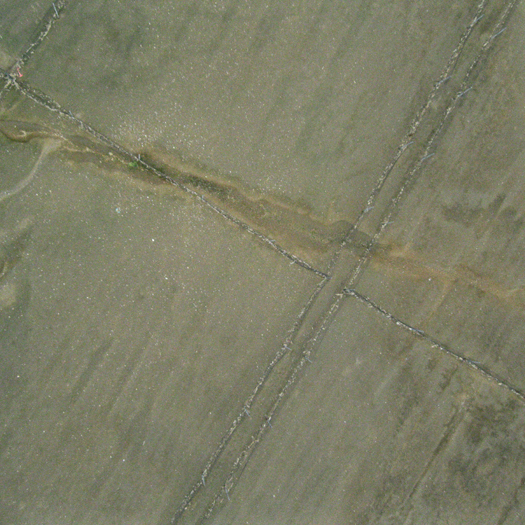 [Saltmarsh restoration on Yellow Bar in Jamaica Bay. Aerial image by Gena Wirth and Rob Holmes, Public Laboratory and the Dredge Research Collaborative.]
Then, on Saturday, having talked about the past, present, and future of New York's dredge landscapes, we'll spend the afternoon on a boat, touring littoral New York, visiting sites from active dredging in the Ambrose Channel, where the Army Corps is preparing for the imminent arrival of exceptionally large Post-Panamax container ships, to heavily-eroded Plumb Beach, to restoration projects under way in Jamaica Bay.
Unlike the symposium on Friday afternoon, which will be free and open to the public, Saturday's boat tour is ticketed. Tickets are available through Brown Paper Tickets, at a reduced rate of $34 through September 6.
Much more detail is available at the DredgeFest website.