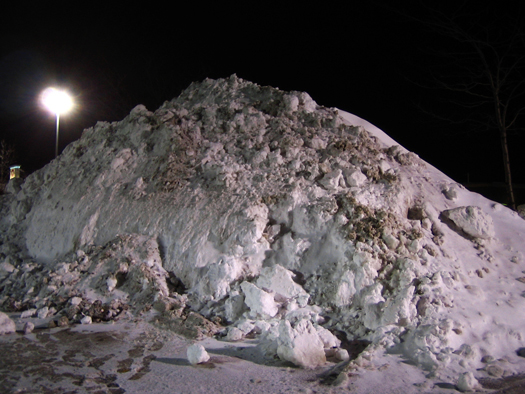 I'm entranced by the simplicity (and, in retrospect, obviousness) of the suggestions in the short text accompanying Sergio Lopez-Piñeiro's series of photographs at Places, entitled "White Space". Lopez-Piñeiro says:
…even everyday plowing practices — practices with no artistic or design ambitions — have the capacity to transform snowed-in parking lots into beautiful winter gardens… We might see these utterly banal parking lots as project prototypes. The white parks that I envision could be easily constructed: plowing master plans would carefully locate the snow mounds, and the resulting designs would artistically exploit the spatial conditions defined by these usually overlooked piles of snow.
Indeed: why think only of the activities within an urban park seasonally, but not also the layout and arrangement of the spaces within the park? In the summer, perhaps it is Tschumi's Parc de la Villette, studded with architectural follies and programmed for intensely urban uses, but in the winter, it is a snow-built Prospect Park, all the lazy and rural curves evoked by Lopez-Piñeiro's coinage of "whitesward". Or perhaps (as I think Lopez-Piñeiro is suggesting) the park itself is seasonal: in summer, the parking lot for Target; in winter, Worcester's Boston Common, evacuated for three weeks after Thanksgiving to accommodate frenzied shoppers, but otherwise from first snow to final melt a constantly altering suburban playground, an annual and eerily fast simulacrum of geological processes of accumulation and erosion.
[The image above is from said series.]