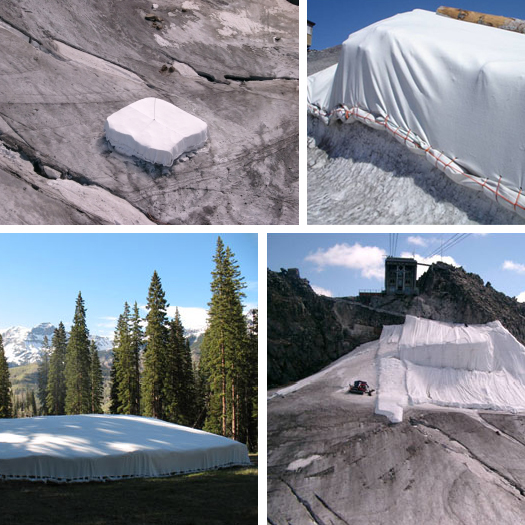 ["Ice Protector OPTIFORCE®", in situ; images via Eiger International]
Or, the second implement in a developing toolbox of landscape tactics for the deployment of snowed architecture: a new f*cking wilderness reminds me that the Swiss have been wrapping their snow to preserve it (and their ski slopes) through the summer, hoping to stave off the melting of their glaciers.  The wrap is plastic, or, more specifically, rolled sheets of polypropelene 3.8 mm thick, nearly 5 meters wide, and 55 "running meters" long.  These sheets, brand-named Ice Protector OPTIFORCE®, are manufactured by the Landolt Group, whose portfolio includes various specialized woven, non-woven, and geotextile fabrics.
In addition to that strong European market, Ice Protector has begun to make a bit of an inroads in North America, with recent tests at "three major ski areas" in Colorado as well as the "Snowtorium" in Jackson Hole, a sculpted ring of snow wrapped in winter and unveiled on the fourth of July to face Wyoming's summer sun.  One scientist, Ohio State University's Jason Box, has been conducting field tests on Greenland's glaciers, hoping that Ice Protector might not only preserve the recreational landscapes of the wealthy, but also prevent glaciers from contributing to rising floodwaters across the globe (video of Box's plan here).
And browsing Pruned's archives and re-imagining mountain-derived tactics such as Ice Protector for urban landscapes, you might begin to fill out that toolbox: not just snow plows and glacier wraps, but also screens that harness the harsh winds spilling between skyscrapers to cool and preserve snow (or redirect its fall mid-air), patented funnels tapping snowy banks like enormous faucets and arching streams of snow across crosswalks, and lines of bright-orange fencing controlling drifts and altering the patterns of piles pushed onto side streets by municipal plows; maybe even pulling your whitesward up snowed slopes and onto and into buildings.  All of it at the mercy of wind and sun and erosion and accumulation: winter's quick geology arrayed on a scaffolding you design, but never quite contoured as you'd intended.