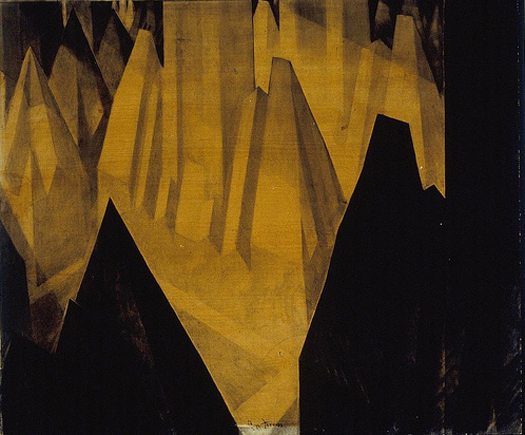 [Manhattan skyscraper zoning ordinances, given visual form by Hugh Ferriss; image from Kosmograd's flickr account]
I'm not always the biggest fan of Andres Duany's work1, but he throws out some interesting ideas in this interview with Builder Magazine: McMansions renovated as "11-bedroom, 11-bath boarding houses for senior citizens", agricultural subdivisions (in which "the same crews that would ordinarily maintain the ornamental landscape in a golf community are instead assigned to the heavy work of the agriculture"; insert commentary a la Mike Davis here, your appetite for which will be whetted by visiting the website of Sky Florida, one of said agricultural subdivisions), and, perhaps most usefully, talks about urban design primarily in terms of alterations to legal structures — codes and zoning ordinances. Of course, the latter has been an essential component of the New Urbanist agenda for years and is not so different from how urban planners talk about building cities, but the usefulness comes from an architect talking in that fashion.
Regardless, there's no reason to think that New Urbanism's techniques, usually employed in service of things often better but still banal, couldn't be deployed in a far more interesting manner. The idea that urban design can consist primarily of offering alternatives codes, downloadable and offered freely to small towns from Florida to California, constructing a sort of competitive marketplace for design guidelines, or guerrilla zoning ordinances, pieces of apparently innocuous legalese injected (perhaps figuratively, through democratic process, or perhaps literally, as municipal file servers are hacked at night by teams of rogue architects) into the DNA of nondescript suburban outposts in order to enable mutant aberrations in the form and function of both greenfield developments and detached single-family homes, is at the very least the kernel of a fascinating project, as I expect the results would be quite different if you asked a group of architects to execute an alternative code than they are when planners do the same.
[Related and previously on mammoth: The house is not a machine for living, but for making money; also, if you did begin the hack the DNA of building regulations and zoning codes, you'd want a practice like BIG around to exploit your hacking, to bring the legal strictures to life by "inflat[ing] [their] buildings" until they "hit the invisible immaterial boundaries" you've altered, revealing that the lines of ordinance you wrote were in fact a sort of negative sculpture (quotes from Will Wiles's review of Yes is More in Icon); Spillway recently mentioned Ferriss's drawings as a precedent for BIG's architecture.]