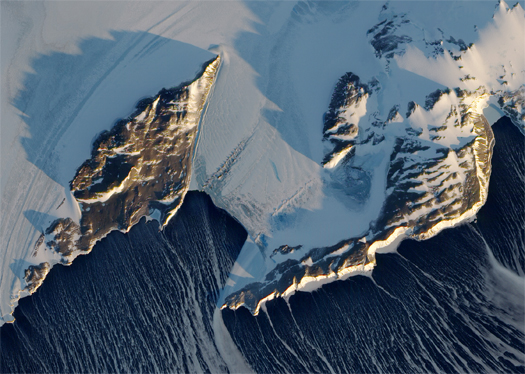 [Perhaps the perfect image for mammoth to end our participation in Glacier/Island/Storm week (it's been great fun, and lots of great research, commentary, and speculation has been posted) with: an Antarctic glacier sinking past Inexpressible Island (really) into Terra Nova Bay, while providing graphic evidence of the powerful winds which operate on the Antarctic coast.  The image is taken from NASA Earth Observatory (possibly my favorite website), which describes the image in this manner:
[This] scene provides at least two indications of the bay's persistent and fierce katabatic winds—downslope winds that blow from the interior of the ice sheet toward the coast [note: see also Pruned on "Glacier-Sailing with the Katabatic Winds"]. One is the windswept ground in the mountainous terrain. In many places, there is a pattern of bare rock and snow drifts that suggests the winds have scoured snow from upwind (inland-facing) slopes and deposited it on the lee sides.

The second sign of the strong winds appears in the open waters of Terra Nova Bay. Parallel white streamers are composed of newly formed sea ice, probably frazil—crystals just millimeters wide—and congealed frazil, called "grease ice" because it resembles an oil slick on the water. The ice is continually pushed out to sea by the strong offshore winds, leaving a pocket of open water, a polynya.
Satellite photographic evidence that glaciers, islands, and storms are akin as geologic events, in the form of a seascape one-third glacier, one-third island, and one-third storm.]