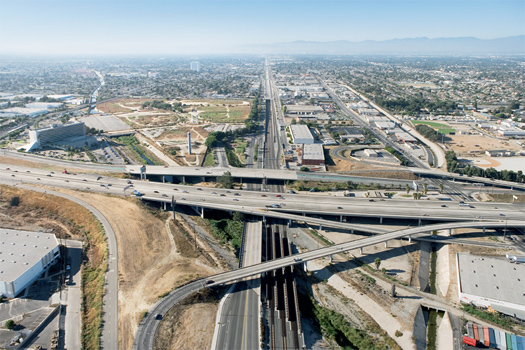 [A portion of the Alameda Trench, a cut in the surface of Los Angeles which runs "ten miles long, fifty feet wide, and thirty-three feet deep", carrying over $200 billion in cargo each year, as photographed by Lane Barden for The Infrastructural City; image via a Places Journal slideshow]
—
UPDATE: this book club is underway and merrily chugging along – please visit this link for an index of all posts written thus far, in reverse-chronological order. Feel free to jump in at any time, as although the chapters are all related, they don't need to be read in order.
—
Over the course of the next several months, mammoth will be coordinating an online discussion of The Infrastructural City: Networked Ecologies in Los Angeles (edited by Kazys Varnelis and published last year by Actar), as an experiment in the cooperative reading and discussion of a text.
As Varnelis explains in the introduction to The Infrastructural City, Los Angeles is perhaps the American city most fully indebted to infrastructure for its existence and survival:
"If the West was dominated by the theology of infrastructure, Los Angeles was its Rome. Cobbled together out of swamp, floodplain, desert, and mountains, short of water and painfully dependent on far-away resources to survive, Los Angeles is sited on inhospitable terrain, located where the continent runs out of land. No city should be here. Its ecological footprint greater than the expansive state it resides in, Los Angeles exists by the grace of infrastructure, a life-support system that has transformed this wasteland into the second largest metropolis in the country. Nor was this lost on Angelenos. They understood that their city's growth depended on infrastructure and celebrated that fact. After all, what other city would name its most romantic road after a water-services engineer?"
Yet despite that history and the continued role of infrastructures such as the Alameda Trench and the Pacific Intertie in shaping the physical, social, and economic form of Los Angeles, the city has also developed an extraordinary resistance to the planning of new infrastructures.  A myriad of factors, including ferocious NIMBYism and empty state coffers, make it increasingly difficult to implement new infrastructures or expand existing systems.  Furthermore, the city's infrastructures are increasingly inter-related and co-dependent, interwoven into what Varnelis terms networked ecologies — "hypercomplex systems produced by technology, laws, political pressures, disciplinary desires, environmental constraints and a myriad other pressures, tied together with feedback mechanisms."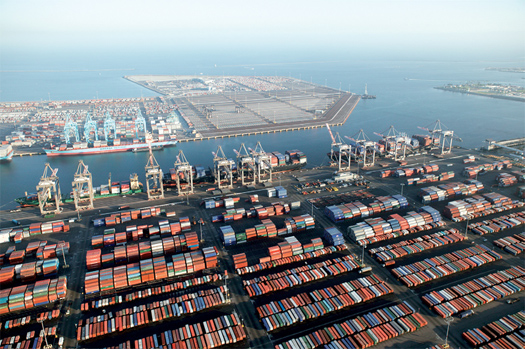 [Terminal Island, photographed by Lane Barden]
Designing in this environment is correspondingly complex, as networked ecologies resist and frustrate the planning mechanisms which served the design of twentieth-century metropolises.  Though The Infrastructural City is structured as a survey of the infrastructural components of a single American city, that series of descriptive fragments begins to coalesce into a manual for the design of infrastructures embedded into networked ecologies, a manual which is relevant to almost any designer operating in almost any contemporary urban environment:
This book is an atlas, but it is also a manual, something that might be found on the floor of a yellow pick-up truck parked next to the Los Angeles River channel, next to some rubber boots… it also might be for another audience, for a future kind of urban planner, designer, architect, or resident.  This new kind of urbanist might very well resemble a hacker, in the best sense, re-imagining how to appropriate the codes, rules, and systems that make up the contemporary city and manipulate them so as to create not a plan but a new kind of urban intervention, more appropriate for this century.
Within this manual, chapters (each written by a different contributing author) discuss the infrastructural sinew of Los Angeles: the consumer goods distribution network which is relied upon by not just the region and state, but by all of the United States; car traffic, and trafficking data; the highly channelized Los Angeles River as a "Flood Control Freakology"; Owens Lake, a desiccated playa which is a "silent victim of the city's thirst".  An analysis of property development in Los Angeles argues argues architects must embrace risk and assume change in order to regain their capacity for agency by referencing Game Theory and a wiffleball court.  Another chapter, contributed by the Center for Land Use Interpretation, describes the neighboring city of Irwindale, the source of much of the gravel which, as aggregate used in the mixture of asphalt and concrete, has been transplanted through industrial process to form the literal ground of Los Angeles.  These disparate topics (which we've only mentioned half of) provide a fascinatingly varied study of the city, which we believe will prove a stimulating starting point for a discussion of the relationships between cities, global economies, social networks, architects and landscape architects, citizenry, natural and artificial ecologies, political actors, bureaucracies, and whatever other diverse components of urban systems we find ourselves interested in.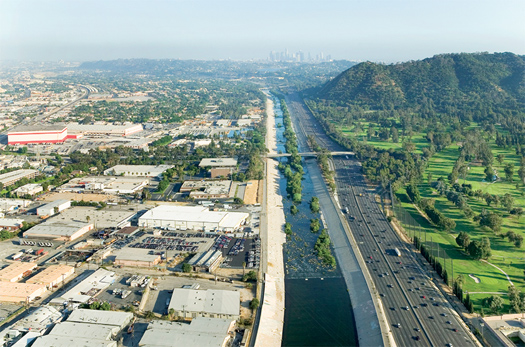 [The channelized Los Angeles River, photographed by Lane Barden]
For each of the twelve chapters, mammoth will post a piece summarizing and commenting on that chapter as a conversation starter, but we hope that a rich discussion will spiral out from that central hub, through comments, through other participating blogs (currently including dpr-barcelona, faslanyc, free association design, Nam Henderson, Andrew and Peter of the polis blog, and quiet babylon – we'll provide links to posts at other blogs discussing each chapter as they're posted), and into other corners of the internet (twitter, etc.).  To that end, participation in this discussion — this "book club" — is open to any and all interested readers.  In order to join us, all you need is a copy of The Infrastructural City, a bit of time to read along, and an interest in discussing landscape, architecture, and infrastructure.
If you're using twitter, you can follow the conversation, announcements, and so on using the hashtag #mammothbook; you may also care to join or follow the "twub" which the folks at dpr-barcelona have been kind enough to set up for the group, and which will serve as an archive for all #mammothbook tweets.
We won't start discussing the first chapter, "Owens Lake", until Monday, April 26th, in order to give all interested persons an opportunity to pick up the book and start reading (and writing, if you're so inclined) before the discussion gets started.  After that, we'll be discussing one chapter a week, taking a break on every fourth week.  In the meantime, we'd love to hear from everyone who is interested in participating, in the comments of this post.  If you'd like to participate, be sure to leave your email address — we'll be sending out reminder emails a little bit in advance of each week's discussion.
[Click through below for the full schedule; read reviews of The Infrastructural City at Places Journal, Archidose, and We Make Money Not Art.]
Schedule
April 26th Owens Lake
May 3rd Los Angeles River Watershed + The River (images)
May 10th Oil
May 17th (off)
May 24th Gravel
May 31st Traffic + The Street (images)
June 7th Telecommunications
June 14th (off)
June 21st Landscape
June 28th Mobile Phones
July 5th Property
July 12th (off)
July 19th Distribution + The Trench (images)
July 26th Props
August 2nd Introduction