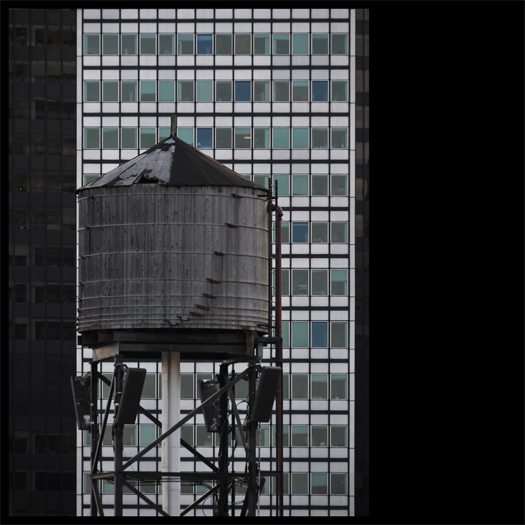 [A water tank stands in Brooklyn, festooned with cellular antennas, photographed by flickr user Dreamer7112.]
From the Franklin Stove, and the Stetson Hat, through the Evinrude outboard to the walkie-talkie, the spray can, and the cordless shaver, the most typical American way of improving the human situation has been by means of crafty and usually compact little packages, either papered with patent numbers, or bearing their inventor's name to a grateful posterity…

True sons of Archimedes, the Americans have gone one better than the old grand-daddy of mechanics.  To move the earth he required a lever long enough and somewhere to rest it — a gizmo and an infrastructure — but the great American gizmo can get by without any infrastructure… The quintessential gadgetry of the pioneering frontiersman had to be carried across trackless country, set down in a wild place, and left to transform that hostile environment without skilled attention.  Its function was to bring instant order or human comfort into a situation which had previously been an undifferentiated mess…

At this point we have seen enough of the basic proposition to formulate some generalized rules for the American gizmo, and examine its consequences in design and other fields.  Like this: a characteristic class of US products — perhaps the most characteristic — is a small self-contained unit of high performance in relation to its size and cost, whose function is to transform some undifferentiated set of circumstances to a condition nearer human desires.  The minimum of skill is required in its installation and use, and it is independent of any physical or social infrastructure beyond that by which it may be ordered from catalogue and delivered to its prospective user.

– Reyner Banham, "The Great Gizmo"
A handful of recent posts (Life Without Buildings, Markasaurus, Robert Sumrell) have noted that the iPhone may be the single industrial product which best exemplifies both the continuance and the evolution of Banham's notion of the peculiarly American gizmo.  Perhaps the most important piece of that evolution is the move away the independence of the gizmo, which Banham's repeated definitions, quoted above, hammered home as one of the defining characteristics of this class of industrial products.
The iPhone, however, is not only dependent upon highly developed systems in its production, as Banham acknowledges all such objects have always been, but is also now equally dependent in its operation upon a vast array of infrastructures, data ecologies, and device networks.  Even acknowledging this, though, and realizing that its operative value comes from its ability to tap those data ecologies and attendant socially-constituted bodies of knowledge, it is still possible to miss the landscapes that it produces. Until we see that the iPhone is as thoroughly entangled into a network of landscapes as any more obviously geological infrastructure (the highway, both imposing carefully limited slopes across every topography it encounters and grinding/crushing/re-laying igneous material onto those slopes) or industrial product (the car, fueled by condensed and liquefied geology), we will consistently misunderstand it.
Take a single instance of iPhone use — Jimmy Stamp's afternoon of coffee-shop sleuthing in Brooklyn, for example.  Think what a vast array of landscapes are tenuously tethered to that single moment:
A. PRODUCTION: THE GIZMO AS A GEOLOGIC EXTRACT
First, we might consider the iPhone as a geologic extract, tracing backwards from the gizmo-in-hand to the direct effect of the gizmo on the surface of the earth, using two of the most prominent links in that chain of effect, mines and factories.
MINES (EXTRACTION)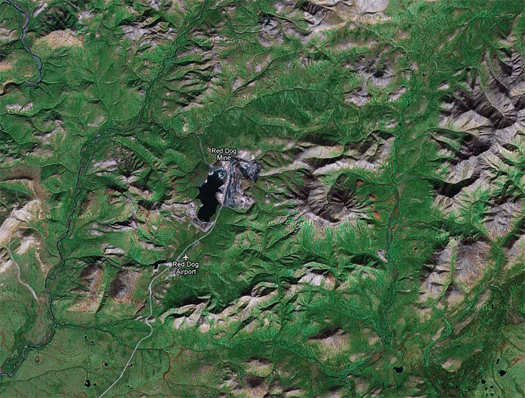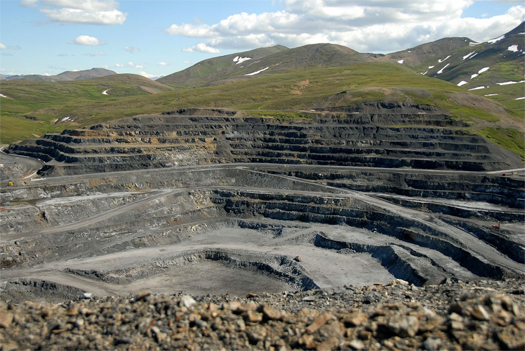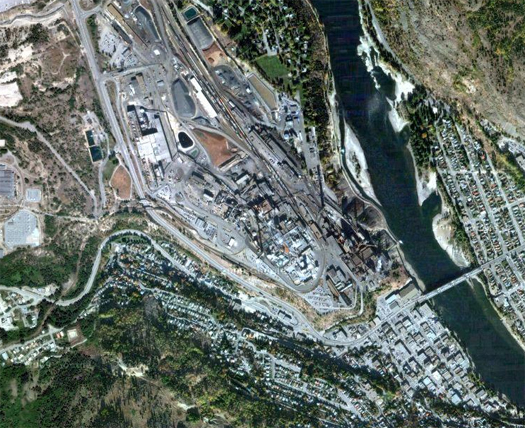 A single iPhone is composed of 135 grams of material, including stainless steel, plastics, glass, a lithium-ion battery, and, perhaps most crucially for the tactile experience of iPhone ownership, a touch-screen display weighing in at 12.5 grams, just under one-tenth of the total weight of the device (PDF).  To capture the motion of the user's fingers, that touchscreen employs a technology known as "Project Capacitive Touch" sensing, which registers movement and pressure with electrically-charged strips of the transparently conducting solution indium tin oxide (In2O3 and SnO2).  The key and most expensive component in that solution is the rare metal indium, which is not mined directly, but typically produced as a valuable by-product during the processing of zinc ores (though, owing to increasing demand and limited supply, it is increasingly recycled from manufactured products).
Canada is one of the world's leading producers of indium, producing approximately fifty tonnes a year, a quantity which is exceeded only by China (330) and Japan (60).  Within Canada, the single facility producing the greatest quantity of indium is Teck Resource's refinery in Trail, British Columbia, which processes zinc ores hauled from the Red Dog pit mine in northwestern Alaska.  Such mines and refineries, scattered across the globe in the aforementioned countries, as well as South Korea, Belgium, Russia, and Peru, are the iPhone's landscape of extraction.
FACTORIES (ASSEMBLY)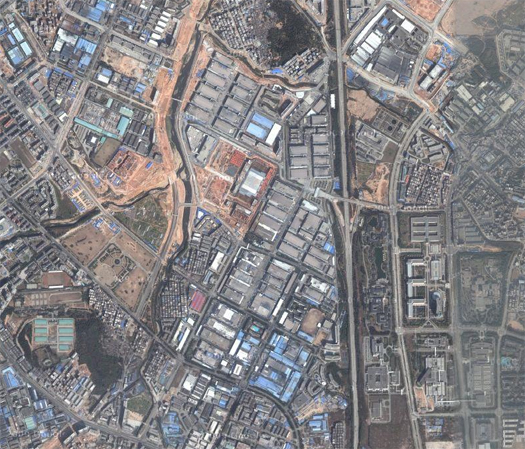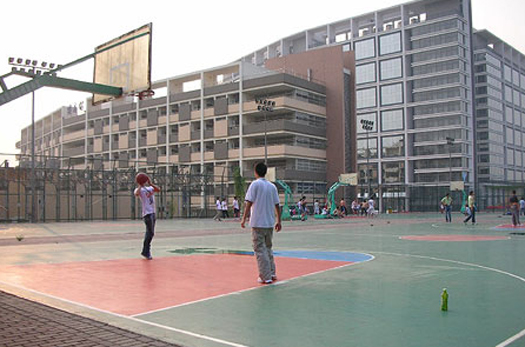 While Apple is notoriously secretive about the iPhone's supply and manufacture chains, reports from both Reuters and the Wall Street Journal indicate that the iPhone is manufactured in Hon Hai Precision Industries' enormous Shenzhen plant, the Longhua Science and Technology Park, which employs over a quarter of a million people behind its walls and security gates.  The facility's factories, dormitories, hospital, restaurants, bank, basketball courts, executive offices, and cafes cover a square mile of terrain, at once company town and infrastructural city.
B. OPERATION: THE PHYSICAL TRACE OF INVISIBLE INFRASTRUCTURES
Second: while the act of locating a trio of Brooklyn coffee-shops does indeed depend on the operative ability of the iPhone to tap what Life Without Buildings describes as a series of "invisible infrastructures — locative data, telecommunications networks, reviews, news, images, information" — these invisible infrastructures do not lack traceable landscape impacts1.
SERVER FARMS (COLLATION)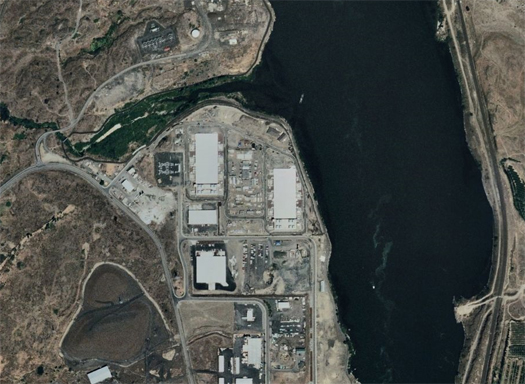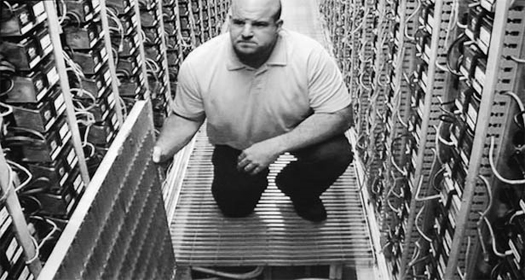 It's nearly impossible, of course, to say which servers caught those mapping requests for Cafe Pedlar, Marlow & Sons, and Blue Bottle Coffee.  But we can query representatives.
As Google is, like Apple, quite secretive about the details of the physical loci of its immaterial product, the locations of less than half of Google's American data centers are known, with those known centers spread between California (five centers), Oregon (two), Georgia (two), Virginia (three), Washington, Illinois, Texas, Florida, North Carolina, South Carolina, Oklahoma, and Iowa.
The first of these data centers to be constructed is in The Dalles, Oregon, and "includes three 68,680 square foot data center buildings, a 20,000 square foot administration building, a 16,000 square foot 'transient employee dormitory' and an 18,000 square foot facility for cooling towers".  Like Google's other data centers, the Dalles facility consumes enormous quantities of electricity (estimates range from 50 to 100 megawatts — somewhere between a tenth and a twentieth of the capacity of an average American coal-fired power plant), generating similarly large quantities of heat, which necessitates locating the centers by significant water sources for the chillers and water towers which cool the servers.
Inside, the data centers are filled with standard shipping containers, each container packed with over a thousand individual servers running cheap x86 processors: anonymous, modular data landscapes, the nerve centers of America's conurbations, their standardization and dull rectilinearity indicating extreme placelessness, but contradicted by the logistical logic of water bodies, energy sources, and transmission distances which governs their placement.
CELL TOWERS (TRANSMISSION)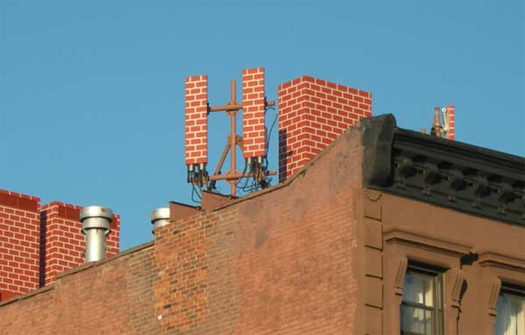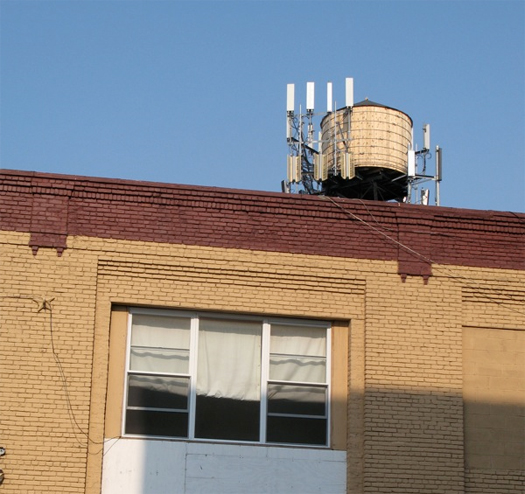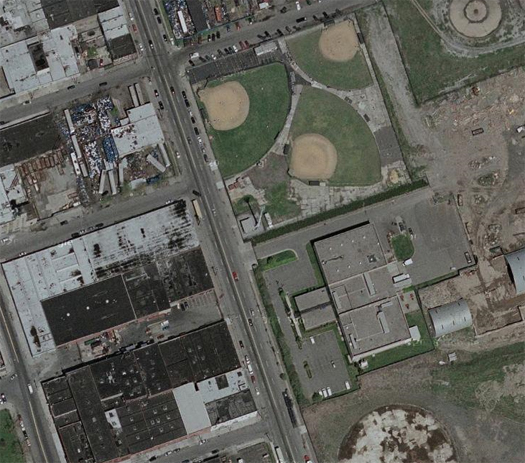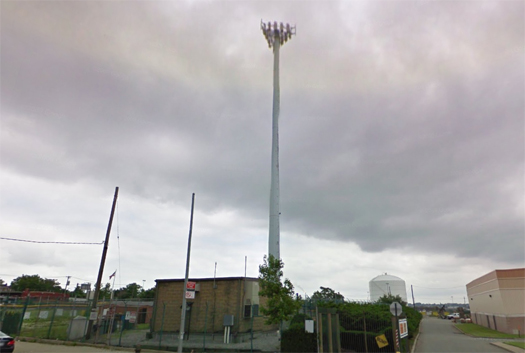 With the materials extracted, the object assembled, and the data collated, the final step in this abbreviated tour is the transmission of that data from the server farms to the individual gizmo, a step which is enabled by ubiquitous cell towers and antennas.  A quick query at AntennaSearch.com, a database of transmission tower and antenna permits and registrations, locates six hundred and seven antennas and seventy-nine towers within two miles of the neighborhood (Park Slope) where this particular search began2.
Again, it is nearly impossible to say which of these transmitters served as the "base station", or central transmission point for the cell the search occurred within — all cellular coverage areas are divided into mapped cells, with the low power and range of transmission of the cellular phone allowing many phones in differentiated cells to occupy the same frequency without interference, by the extraordinary means of a legal fiction which compartmentalizes the air itself — but it is not difficult to pick out the sort of structures which might have done so: prosthetic antenna arrays, clinging to rooftops and water towers, or (much more rarely within Brooklyn) the tall and familiar standard cell tower, its silhouette looming over baseball fields.