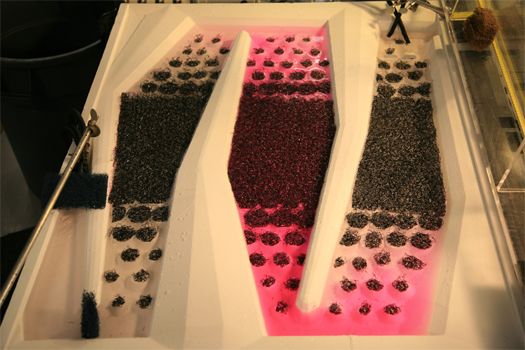 [A model built by Alan Berger, Harvard graduate student Gena Wirth, MIT professor of Civil and Environmental Engineering Heidi Nepf, and CEE graduate student Jeff Rominger, to test for the optimum design of pollutant-removing vegetated channels, as part of Berger and P-REX's Pontine Systemic Design; image via MITnews.]
I love this:
[T]he Pontine Marshes project constitutes an engineering problem with two key challenges. First, the water flowing through the wetlands must move slowly enough so that the plants can absorb the pollutants; second, the pattern of the water flow must give all water molecules equal opportunity to encounter the vegetation.

Berger's solution is to have the water move through an S-shaped course that slows it down to a speed well under one mile per hour. The Italian engineers of the 1930s built perfectly straight canals, since they were simply concerned with transporting water efficiently. But forcing water to meander through winding channels in a wetlands gives more water molecules the best chance of being purified. "Inefficiency is how environmental systems work," says Berger.

[The team] built multiple models from Berger's plans, featuring variations of S-shapes and alterations in the density and placement of the wetlands vegetation.

To scrutinize the designs, the researchers sent water injected with an fluorescent dye called Rhodamine WT through the models and used a fluorometer to measure the intensity of the light as the water exited, which indicated how broadly the water had spread. Test results indicated that the optimum design was one featuring relatively wide S-shaped channels with lots of vegetation underneath and small "islands" of earth to help the water disperse evenly.

"Heidi's and Jeff's work gave us a scientific understanding of how these plans functioned, and allowed us to push the design envelope," says Berger.
This is an experimental landscape architecture.  Not experimental in the usual sense within architectural disciplines — where it is more or less a synonym for radically avant-garde (though this is by no means a condemnation of such architecture) — but experimental in the scientific sense, rigorously testing the performance of various forms, to design a landscape which incrementally advances away from its predecessors.  If we're going to move beyond talking about designing post-natural ecologies towards actively constructing them, then developing modes of practice that incorporate experimentation will be essential.  (Next: peer-reviewed landscape architecture.)
[seen via @bldgblog; the Pontine Systemic Design previously on mammoth here and here.  Read the full article at MITnews, which also contains a gallery of images.

Update: You may also ask: if this is an experimental landscape architecture, what does an experimental architecture look like?  Rather like Sam McElhinney's fascinating "switching labyrinth", which BLDGBLOG has coincidentally posted this same afternoon.]