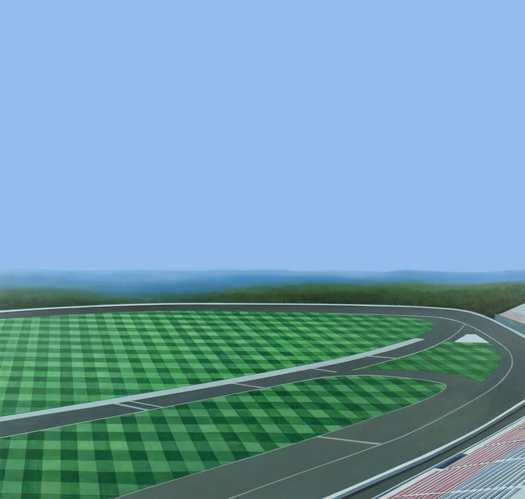 [Jake Longstreth's "Skybox"; while the pit mines and flood-control apparatus found in Irwindale are one particularly spectacular kind of marginal landscape, there are many other kinds, exhibiting varying degrees of marginality, including speedways — such as the Irwindale Speedway — and the ubiquitous suburban strip.]
DPR-Barcelona returns to a familiar theme for that blog, the utopian and architectural appropriation of unusual terrains for dwelling, by way of proposals from Archigram, Robert Smithson, and Aristide Antonas, noting that the pit mines of Irwindale are already occupied by industrial structures reminiscent of Antonas's Crane Rooms or Lebbeus Woods's High Houses.
Similarly, FASLANYC ties "Margins in our Midst" to the science-fiction classic War with the Newts, orquidearamas, and a vision of cascading pit-mine apartment buildings.
Free Association Design looks at Portland's Ross Island Sand and Gravel Pit as an analog to the pit mines of Irwindale, but an analog in which the "networked mobility of landscape has come full circle", "processes of construction excavation, industrial material sourcing, global shipping, dredging, and wildlife habitat formation [becoming] bound together in a fortuitous network of mutual dependence".
Nam Henderson looks at Berkeley Pit, a former open pit copper mine in Butte, Montana, and, noting that the pit is breeding extremeophile micro-organisms that researchers are studying in search of cancer-fighting compounds, wonders if pit mines might have a future as pharmacological farms.
Peter Nunns notes that Coolidge's observations in Irwindale — and, indeed, The Infrastructural City in general — serve as a useful reminder of the inescapable materiality of the city, a reminder which is often needed as technologies and thinkers tempt us to believe that cities can elude the gravity of material production.
This, I think, is part of what is so useful about The Infrastructural City as a guidebook for the contemporary city: it reminds us that, despite vast scalar differences, the demolition of a backyard pool deck that Nunns describes and the excavation of vast aggregate pits on the margins of the city are inextricably linked activities, occurring in the same networked landscape.