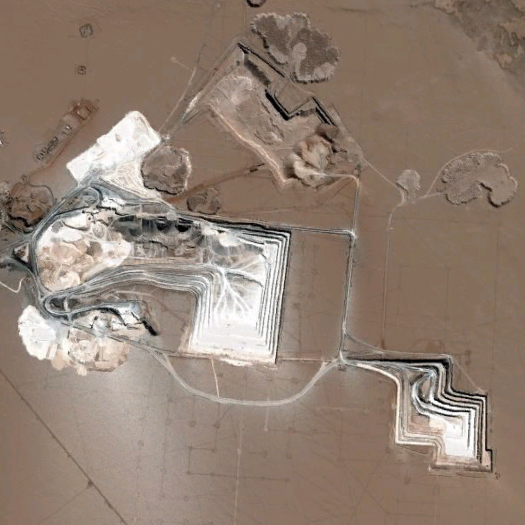 [SPL's open-pit salt mine in the Tarapacá salt flats, via Google Maps.]
In December, after we began our winter hiatus, Urban Omnibus posted ran a fantastic post by Elizabeth Ellsworth and Jamie Kruse, "Geologic City", which briefly summarized several of the much longer "Geologic City Field Reports" which have run on the Friends of the Pleistocene's blog since last August.  If you haven't checked out those longer field reports — and you should — you ought to at least read the post at Urban Omnibus, as it traces a few of the many strands of interaction between one city (New York) and the geology that permeates it, such as the Department of Sanitation's stockpiles of Chilean rock salt:
The salt travels here via International Salt, the City's supplier, from the Tarapacá Salt Flats in Chile, vast deposits inside ancient sea beds that now lie in the driest desert in the world (50 times drier than Death Valley). Despite having materialized 8-10 million years ago during the Miocene epoch, the tons of solidified geologic time piled beneath the bridge will dissolve away in a matter of weeks as they are spread atop hundreds of miles of wintry city streets. Before washing away with spring rains, this thin coating of ancient salt will first encrust nearly every exterior surface of the city — roads, sidewalks, bikes, cars, and shoes — with traces of deep time.
Friends of the Pleistocene/Smudge Studio have also announced a call for submissions for an "edited collection of brief writings and visual essays", which they have tentatively titled "Making a Geologic Turn".  The book will map and explore rising interest in the geologic (their quick list of geologic forces reads: "deep time, slow accumulations and metamorphoses of the world's materiality, tectonic plate movements, erosion and displacement of landforms, dramatic earth reshaping events, geo-bio interactions") as a condition of contemporary daily life, particularly as that interest is expressed in art and design.  Abstracts are due on 1 March; you can read the full call at Friends of the Pleistocene.
[Previously on mammoth: the salt mines of Detroit.]