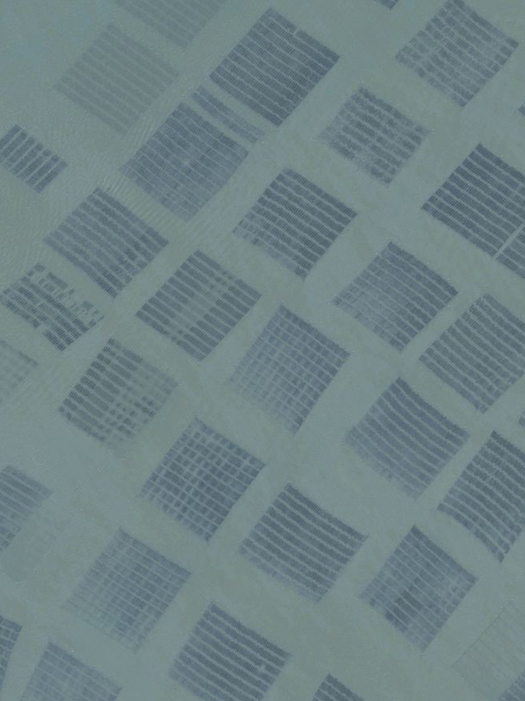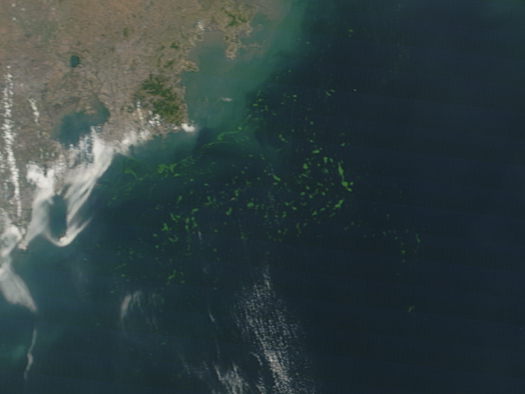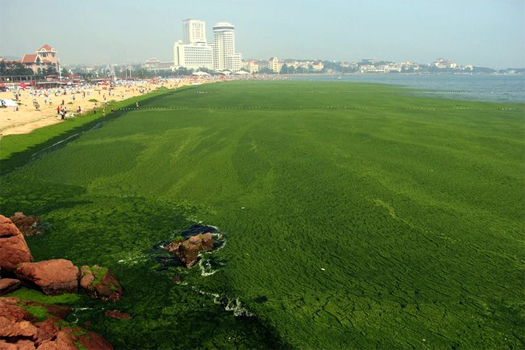 [Top: Seaweed farming rafts off the coast of the Chinese province of Jiangsu, south of the city of Qingdao, via Bing Maps.
Middle: enormous mats of algae floating off the coast of Qingdao, as photographed on June 29th by NASA's Terra satellite. The Los Angeles Times states that this is sixth year that the algae has proliferated so uncontrollably in Qingdao's coastal waters; the area covered has been estimated at 11,500 square miles.
Above: the algae washes onto beaches, where local officials deploy boats, nets, and construction equipment to collect as much as 160 tons of algae a day, loading it into dump trucks and transporting it to a nearby "algae processing facility".]
Last month, [local officials] declared a "large-scale algae disaster," sending hundreds of boats and bulldozers to clean up the waters off Qingdao, a former German concession in Shandong Province that is famous for its beer and beaches. As of Monday, about 19,800 tons of the algae had been cleared, the Qingdao government said. While valued for its nutrition — or as an ingredient in fertilizers and biomass energy production — algae in large quantities can prove dangerous as it decomposes, producing toxic hydrogen sulfide gas…

Although biologists are at a loss to explain the most recent algae bloom, scientists suspect it is connected to pollution and increased seaweed farming in the province just south of Shandong. While similar green tides have been reported around the world, the annual bloom in the Yellow Sea is considered the largest, growing to an estimated million tons of biomass each year.

The green tides were first reported in Qingdao in 2007. A central factor is the high supply of nutrients from agricultural runoff and wastewater. But those pollutants have been in the Yellow Sea for decades, leading scientists to look for new triggers.

A group of researchers believe that the algae that washes up around Qingdao originates farther south in seaweed farms along the coast of Jiangsu Province. The farms grow porphyra, known as nori in Japanese cuisine, on large rafts in coastal waters. The rafts attract a kind of algae called Ulva prolifera, and when the farmers clean them off each spring they spread the algae out into the Yellow Sea, where it finds nutrients and warm conditions ideal for blooming.

"It feeds off those nutrients and grows bigger and bigger, and eventually you can see it from satellites," said John Keesing, a scientist at the Csiro Division of Marine and Atmospheric Research in Australia who is studying the green tide with Chinese researchers. "The currents gently move the algae in a northeastern direction out into the center of the Yellow Sea. You get a huge amount, and eventually it starts to wash on shore."
This is feedback, the accumulated white noise of aquaculture.